Panel Mulls Consolidation, Outsourcing Trends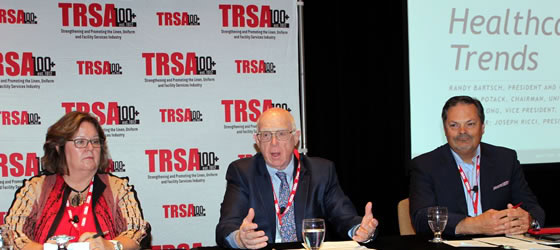 TRSA Healthcare Conference Panelists (l/r) Liz Remillong, Crothall Healthcare; Michael Potack, Unitex; and Randy Bartsch, Ecotex Healthcare Linen Service Corp.
A panel of commercial laundry executives explored a range of issues in a late-morning session on Nov. 15 at TRSA's recent two-day Healthcare Conference in Salt Lake City. The panelists noted both challenges and opportunities associated with trends such as rising labor scarcity.
The panel included Randy Bartsch, president and CEO of Ecotex Healthcare Linen Service Corp., Seattle; Michael Potack, chairman, Unitex, Elmsford, NY; and Liz Remillong, vice president, strategic alliance, Crothall Healthcare, Phoenix. TRSA President and CEO Joseph Ricci served as moderator for the panel. He posed a number of questions on issues such as the impact of the recent announcement by Aramark of its acquisition of AmeriPride Services Inc. A packed room of nearly 150-plus attendees at the conference hotel, the Salt Lake City Marriott City Center, looked on as the panelists described how consolidation is reconfiguring the laundry landscape.
Bartsch, for example, who operates healthcare laundries in both Canada and the U.S., noted that the AmeriPride acquisition instantly made Aramark a key player in laundry north of the border, a market where it was largely unknown before.
Ricci also asked about Aramark's acquisition of Avendra, a group purchasing organization for major hotel chains founded by industry leaders ClubCorp, Fairmont, InterContinenal Hotels Group, (IHG) Hyatt and Marriott. Remillong responded that this move likely was designed to enhance Aramark's competitive position vis a vis Sodexo and Compass (parent company of Crothall). Both of the latter two companies already have similar group-purchasing organizations working for them, with a key focus on bulk purchases of food and related products. "A lot of it is food," she said. "While (Aramark) has the linen piece, the laundry services piece, I think that was primarily to get a GPO that their competition already had." While significant, the commercial laundry side of Aramark is only one component of that company's business portfolio, which includes major presence in areas such as providing food services to hospitals, sports arenas, nursing homes and other institutions.
The panelists said that consolidation isn't likely to alter the shift toward outsourcing of laundry services by hospitals, outpatient centers and long-term care facilities. A key driver of this trend, said Potack, is the rising costs and scarcity of labor that's pushing these organizations to seek ways to control costs. Outsourcing noncore services such as laundry is likely to grow more common as rising minimum wages push costs steadily higher. Nursing homes in particular are "ripe for growth" in laundry outsourcing.
Occasional exceptions involve institutions such as the U.S. Dept. of Veterans Affairs and the provincial government of Quebec, where employee unions provide an anchor of political support for in-house laundries. Bartsch noted that due to rising costs and taxpayer reluctance to pony up more money for expansion of Canada's national health system. Governments in Saskatchewan, Ontario and other provinces have moved to outsource healthcare laundry operations, along with other non-clinical support services. "The governments are really getting out of that business," he said. "The next generation of hospital, healthcare and governmental leaders just don't want to deal with things like (laundry). They have bigger issues to deal with." Quebec, however, appears to be an outlier in that regard, with plans underway to expand government-run laundries in the province, despite the greater expense required. "Fundamentally, their costs are higher than that of the private sector," Bartsch said. "Laundry is one of those things by centralizing, you actually don't reduce the costs for the co-op owners."
Beyond helping hospitals and other institutions save money, another factor fueling outsourcing is the expertise that private-sector laundry operators can bring to these organizations through programs designed to reduce linen losses. Curbing losses and abuse of healthcare or hospitality textiles is a vexing challenge for laundries as well. Potack noted that for every 100 pieces of rental linen supplied, as many as 80 are subject to loss or abuse before they are retired due to "ragging out." That said, dedicated and creative efforts can bring positive results in reducing linen losses, he cautioned. For example, Potack noted that Unitex hired retired New York City police detectives to work for a week with hospital staffs helping to track linen to determine where losses were occurring. Garbage audits also have confirmed that in many cases soiled linens that could and should go back to the laundry are mistakenly trashed. "It really is a hard task to bring that number around," Potack said. "It's difficult but it can be done."
The worst losses typically occur in hospital emergency rooms and in transfers of elderly or severely ill people to long-term care centers, the panelists said. Educating staffs in these institutions, including hospital operating rooms and other departments, can make a difference, but a continuing effort is required.
Remillong added that as consolidations continue, the challenge sometimes requires a hard decision of either canceling a contract with a client or figuring out ways to save linen with minimal support from hospital partners. This situation varies significantly, depending on how contracts are written. "When there's dollars associated with the loss," she said, as Bartsch raised a piece of paper with a dollar sign drawn on it amid laughter from the audience, "You get the focus, especially from the CFO, etc. When they're not, you're kind of trying to not fall out of the raft, and driving yourself."