Patient Acuity Rise Portends Healthcare Linen Service Growth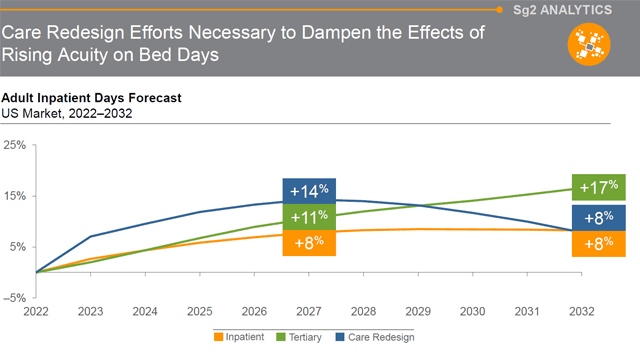 An anticipated increase in U.S. adult inpatient days points to increased demand for textiles for acute and tertiary care. That's a plus for linen, uniform and facility services operators who serve those facilities, while posing an additional challenge: taking advantage of the spillover growth into other patient-care settings often more difficult for the industry to serve.
Data from Sg2, the market analytics division of Visient, a healthcare performance improvement company, indicates greater opportunity for linen, uniform and facility services from greater strain on the healthcare system, partially fueled by COVID and its lingering effects. Not every hospital or long-term care facility will benefit equally. But many healthcare organizations will face increased inpatient volume, patient complexity and length of stay, requiring them to "rethink service line prioritization, service distribution and investment in care-at-home initiatives," said Maddie McDowell, M.D., Sg2 senior principal and medical director of quality and strategy.
Sg2's annual forecast suggests adult inpatient volumes returning to their pre-pandemic numbers, growing 2% over the next decade. However, as chronic conditions increase, adult inpatient days are projected to increase 8% during the same period with a 17% increase in tertiary days.
At the same time, services and facilities that serve a smaller number of patients are becoming more significant. Advances in digital infrastructure, remote monitoring and diagnostics and payer reimbursement have boosted not only virtual visits but other home treatments such as physical therapy, infusions, home diagnostics and other services.
Initially seeing the greatest leap, at 14% over the next five years, will be other facility types and service lines, categorized as "care redesign." Over the next decade, home care will increase, with:
Evaluation and management visits, up 19%
Hospice, 13%
Physical and occupational therapy, 10%
Despite telehealth levels dropping since the height of COVID-19, greater demand for virtual care will continue to rise as technology progresses. By 2032, behavioral health, neurosciences and medicine administered by telehealth will resume its climb and account for 27% of all evaluation and management visits.
2021 outpatient activity remained below 2019 levels, yet outpatient surgery returned to pre-pandemic levels in the second half of the year. Four percent of inpatient surgical procedures will shift to outpatient by the end of the decade, a softening of growth in outpatient procedures from this source.
Trends suggest that outpatient volumes will recover in 2022 and grow 16% over the next 10 years because of the aging population, growing survivorship and rise in chronic disease. Surgeries are projected to grow 25% at ambulatory surgery centers and 18% at hospital outpatient departments and physician offices due to increased payer scrutiny, cost saving measures, hospital-based capacity and resource constraints, as well as the rise in aging and chronic disease populations.
Emergency department visits will plateau over the next two years at -2% following the sharp drop during the pandemic and will remain at pre-pandemic levels because of lower acuity and alternative care options. Infectious diseases such as asthma, chronic lung disease and cystic fibrosis will return with a 3% increase this year, then a 10% decrease by 2032.