Penn Emblem Gets Recertified by the WBENC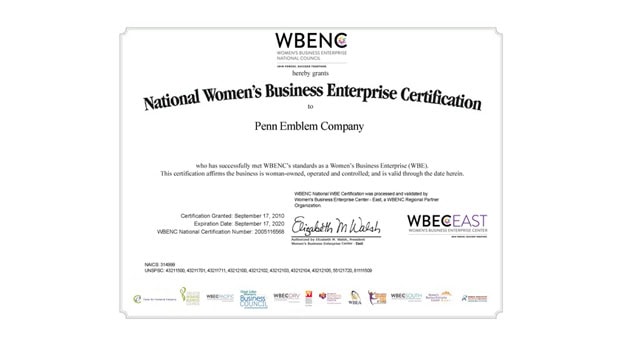 Penn Emblem recently achieved certification as a Women's Business Enterprise by the Women's Business Enterprise National Council (WBENC) for 2019-2020. Penn was first certified in 2010, according to a news release.
"We are very pleased to be recognized as a Women's Business Enterprise," said Randi Blumenthal-Joseph, president of Penn Emblem. "This certification raises our profile among the many companies looking to do business with diverse companies. It provides access for business opportunities with other WBENC members, which include many of the Fortune 500 companies as well as government agencies that have active supplier diversity programs."
WBENC's national standard of certification is an extensive process that includes an in-depth review of the business and site inspection. The certification process is designed to confirm that the business is at least 51% owned, operated and controlled by a woman or women, ensuring supplier diversity. The WBENC is the nation's largest third-party certifier of businesses owned and operated by women, and is a resource for the more than 700 U.S. companies and government agencies that rely on this certification as an integral part of their supplier diversity programs.