PFAS Waste – A Dark Cloud on the Laundry Industry's Horizon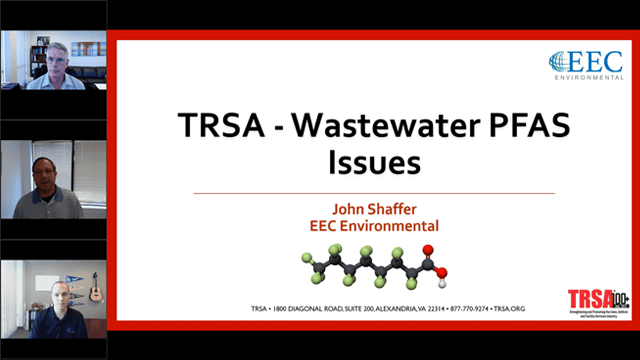 So you thought getting through COVID-19 was bad? And the follow-on (continuing) crises of inflation and supply-chain/labor shortages? Well, buckle your seat belts laundry operators, because the EPA and state environmental officials are now in the process of targeting a textile chemical additive called PFAS. Their actions potentially could saddle you with extremely high wastewater-disposal costs.
That was the message that an online audience of 60-plus laundry professionals heard during a July 14 TRSA webinar presentation by John Shaffer. He is a laundry chemist and CEO of EEC Environmental, a California-based consulting firm that advises laundries and other businesses on wastewater-compliance issues. Shaffer has wide-ranging experience in advising laundries in this area. He also worked with TRSA to develop the association's Clean Green standard.
In the 45-minute webinar, titled "Wastewater PFAS Issues," Shaffer defined the chemical as "per- and polyfluorinated substances." These are man-made fluorinated compounds that don't break down in nature. Hence the nickname "forever chemicals." They're used in various products, including water/stain-resistant garments, firefighting foams, Teflon, carpeting and others. While U.S. manufacturers of PFOA and PFOS have largely phased out their use of these chemicals, imported goods still have them, and they are showing up in the parts-per-trillion level in wastewater.
PFOA and PFOS are part of a PFAS "family" of chemicals that includes 5,000 varieties. These include additional chemicals, such as PFBS and PFHxS that have recently drawn attention regulators, Shaffer says. Among the reasons are the fact that they 1) don't break down and 2) they are considered "bioaccumulative" in the human body. PFAs chemicals are implicated in a variety of health issues. They're found in 99% of the blood of humans and are associated with cancer, thyroid issues, reduced fertility and reduced childhood vaccine responses, Shaffer said.
We asked Shaffer if even minute traces of PFAS, say in the "parts per quadrillion" level are implicated in human health issues. The EPA's ongoing efforts to develop "maximum contamination levels" (MCLs) have included these trace amounts. Shaffer says that while he's no expert on toxicity, the agency has good data because PFAS is present in the blood of so many people. "They can correlate blood levels with health impacts with as large a study group as they want," he said. Not everyone, including DuPont and other manufacturers of PFAS chemicals buys this claim. They are contesting the EPA's findings and models and could face major liability issues over these products. In any event, regulators are expected to continue their efforts to target PFAS contamination that ends up in drinking water supplies, he said.
What that means for laundry operators is that in the near term, the EPA or state environmental regulators could begin testing wastewater for PFAS contamination. They also could soon begin enacting rules requiring you to find a way to remove even the smallest quantities of the chemical before discharging wastewater to a sewer.
Michigan is the state that's leading the way nationally along with the federal EPA in analyzing the impact of PFAS. Shaffer presented a large amount of data that's publicly available from Michigan environmental officials who are sharing data on testing they've done with a number of publicly owned treatment works (POTWs) in the state. Each POTW showed varying trace levels of PFAS in their water supplies. One glimmer of good news in all this is that laundries are a relatively small source of PFAS waste, about 5%, according to a pie chart that Shaffer presented from the Michigan Department of Environment, Great Lakes and Energy (EGLE). Wastewater from consumers is far more significant, but environmental officials are targeting industrial emitters, such as metal-finishing companies, because they feel it's impractical to enforce such rules on the public.
What that means for a laundry is that your standard dissolved air floatation (DAF) or microfiltration-type wastewater systems won't achieve the very low levels of PFAS effluence that state and federal agencies will likely require. Shaffer suggested that you'll need ultra or nanofiltration or possibly activated ion carbon technology to remove PFAS to acceptable levels. This technology could cost $1.9 million to $5 million in installation costs and another $100,000 to $500,000 in operating costs for frequent "change-outs," he said. Some companies may lack the footprint to accommodate equipment such as granular activated carbon systems and related tanks. That may mean a need for additional construction. "It's a whole other realm," Shaffer said from what laundries have had to do to deal with wastewater in the past.
Shaffer is now advising a Michigan laundry client that's considering this kind of upgrade, he said. Different POTWs are taking either a "business friendly" or "unbusiness friendly" approach to industrial customers that emit PFAS. Most don't want these companies to shut down, but the mandates to deal with very low allowable levels of PFAS contamination are likely coming regardless, and laundry operators should be aware of what's happening.
California is also taking an active role in looking at tightening rules on PFAS waste going to POTWs. Other states that are doing water sampling tests and distributing questionnaires on PFAS to commercial users such as laundries include: North and South Carolina, New Hampshire, Missouri, New Jersey, New York, Illinois and Virginia. Several states, including Connecticut, Washington and Ohio, already have stringent PFAS standards.
Shaffer says five laundries in the San Francisco Bay area are now undergoing testing for PFAS with a focus on remediation planning. That trend is likely to continue there, in Michigan and in other states.
TRSA is working with Shaffer and other experts to collect information on the PFAS issue and to advocate to state and federal officials for fair and reasonable treatment of commercial laundries on this issue. Contact TRSA Vice President of Government Relations Kevin Schwalb at kschwalb@trsa.org if you have questions. You also may contact Shaffer at jshaffer@eecenvironmental.com.