Philly-Born Company Celebrates 75th Anniversary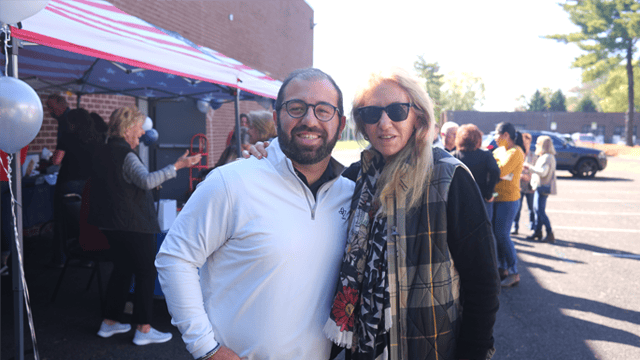 It is rare to mark a company's 75th year in business, but what is even more extraordinary is to celebrate such a prestigious anniversary while giving back to the community where the company first got its start – Philadelphia. Penn Emblem Co.'s milestone was celebrated with current and past employees, local small businesses and a few new, furry friends.
On Oct. 21, Penn Emblem celebrated its milestone anniversary at the company's corporate office in Trevose, PA. The celebration consisted of local food trucks, Kono Pizza and Have a Ball, big ticket raffle items, Ultra Photobooth, and donated sweets from Frankford Candy (Philadelphia), which also celebrates its 75th year in 2022. In addition to Philly-made candy, attendees also enjoyed Philly Pretzel Factory pretzels, Philly's favorite Tastykake treats and Pennsylvania-born Wawa drinks!
Penn Emblem is a fourth-generation family-owned and operated company that got its start in the heart of Philadelphia on North 15th Street. What was once known as Penn Novelty Co., an emblem company providing primarily oval emblems and U.S. flags, has now become an award-winning, full-service, branded decoration and apparel company servicing 13 markets out of four global locations. Penn Emblem is America's largest supplier and brand decorator for the rental uniform and promotional-product industry, according to the release.
While celebrating the company milestone was the focus of the event, the company shared the attention with local Philadelphia causes in honor of their anniversary. Philly Rescue Angels joined Penn Emblem's celebration with eight adoptable puppies in tow to spread awareness of their cause and to represent the organization's mission. They are a 100% donor funded, Pennsylvania-based, nonprofit organization that rescues, rehabilitates and "rehomes" animals that have been abandoned, abused or neglected. Employees spent the weeks leading up to the event collecting necessary supplies for donation to the organization. Items included pee pads, beds, dog food, treats and toys – all items Philly Rescue needs to be able to place rescued dogs in foster homes until they are adopted. In addition to donated supplies, the company raffled off big-ticket items such as a TV, a Ring doorbell and a donated gift basket from Iron Hill Brewery in Newtown, PA. With the raffles, employees raised more than $1,000 to donate to Philly Rescue Angels.
Alongside Philly Rescue Angels, Philadelphia Youth Basketball came to support the effort. PYB is a community-built youth organization that leverages basketball to help today's urban youth. Visiting their booth at the event allowed employees not only to learn more about their efforts, but they were also given a bonus raffle ticket for greater chances of winning.
Following food and fun with puppies, President Randi Blumenthal gave a heart-warming speech thanking all the attendees and recapping a brief company history. Guests left the event with an assortment of treats and a specialty yearbook created by Penn Emblem's marketing team that commemorates 75 years of memories, giving back and employee loyalty.
Penn Emblem Co. prides itself on doing the right thing and doing things right and the generous display of community effort and inclusion was the ideal depiction of what those core values mean, the release noted. With Philly-built companies supporting the event, Philly-based charities gaining critical exposure and the Philadelphia Phillies heading to the World Series, Penn Emblem had one of the grandest celebration weekends of the year.