PMI Celebrates 2017 Graduating Class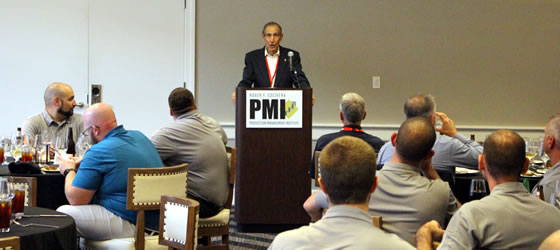 TRSA's Roger F. Cocivera Production Management Institute (PMI) held its graduation ceremony on Aug. 10 at the College Park Marriott Hotel & Conference Center at the University of Maryland. This year's PMI – Management class of graduates included 16 linen, uniform and facility services executives from national, regional and independent operations across the United States.
The PMI graduation ceremony featured a reception, followed by a formal dinner, on the final day of the program. Speakers at the dinner included TRSA President & CEO Joseph Ricci, TRSA Director of Industry Affairs Bill Mann and the institute's namesake Roger Cocivera, a longtime operator and former head of the association.
Cocivera stressed the importance of lifelong learning to the PMI graduating class of 16, as well as the PMI – Production class of 57 gathered in the room. "PMI started in 1989. This is the 28th year that it's in business here, and it's growing," Cocivera said. "The more you learn, the more you're going to earn. TRSA is really giving you value for your money. And that's what counts."
Following Cocivera's speech, each member of the PMI – Management graduating class was recognized in front of the group, receiving a certificate from Ricci and a commemorative pin from Mann, before pausing to take a photo with Cocivera.
TRSA also held its Ehrlich-Stempler Executive Management Institute (EMI) reception and graduation dinner on the same evening on the University of Maryland campus. Click here to learn more about EMI; click here to learn more about PMI.