PMI Honors Graduating Class on 30th Anniversary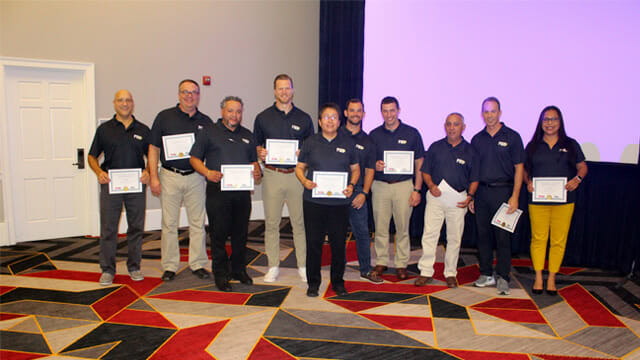 TRSA recently held a ceremony for its 30th Annual Roger F. Cocivera Production Management Institute (PMI) graduating class at the College Park Marriott Hotel and Conference Center on the campus of the University of Maryland. The graduation ceremony capped off a full week of education specifically tailored for linen, uniform and facility services production managers and personnel.
The dinner began with a tribute to Cocivera, the former TRSA president who passed away on Aug. 6 due to an illness. Cocivera was instrumental in establishing PMI, which now bears his name. TRSA President & CEO Joseph Ricci and retired TRSA Director of Industry Affairs Bill Mann gave brief remarks on Cocivera's importance to the industry, association and PMI. Mann and Ricci concluded with a moment of silence to honor Cocivera's memory.
A short time later, Jeff Ringley, a 2013 PMI graduate and current director of operations, Up To Date Laundry Inc., Baltimore, addressed the current PMI class. Ringley's speech focused on the importance of the leadership lessons learned and lifelong industry connections that he made during his time as a PMI student. He noted the important role that institutes like PMI, as well as EMI, play in retaining staff through investing in your employee's professional development.
The ceremony concluded with each member of the 2019 PMI graduating class walking across the stage to receive their certificate for completing the training. Graduates included:
Timothy Barnette, Service Uniform Rental, Englewood, CO
Adrianne Eagleshield, Central Dakota Hospital Laundry, Bismarck, ND
Mario Garcia, Alsco Inc., Pompano Beach, FL
Craig Giancola, JENSEN USA Inc., Panama City, FL
Max Hersey, Superior Linen Service, Tacoma, WA
Santos Lopez, Falvey Linen Supply, Springfield, MA
Todd Porterfield, Faultless Healthcare Linen, Kansas City, KS
Rich Pulley, Alsco Inc., Kent, WA
Nayeli Rodriguez, Budget Uniform Rental Inc., Gardena, CA
Rick Voss, CLEAN Uniform Co., St. Louis
For more information on TRSA's Production Management Institute, visit www.trsa.org/pmi. TRSA's Executive Management Institute (EMI) also held its graduation ceremony on Aug. 15. To read more about the EMI graduation, click here.