PMI: Payoff in Savvy Laundry Managers Crucial to Plant Performance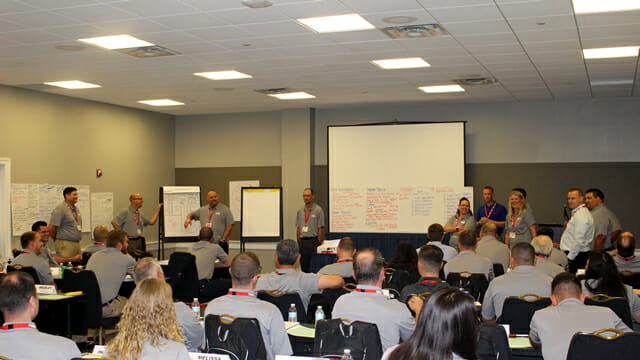 With the last four editions of TRSA's annual Industry Performance Report (IPR) indicating typical growth of production compensation as a percentage of sales rising almost 0.5 points per year, the heat is on to control this expense, pointing to TRSA's 29th Annual Production Management Institute's (PMI's) temperature-reducing value.
When PMI convenes Aug. 5-9 at the University of Maryland, participants will learn from experts practicing the industry's latest techniques for balancing productivity, quality, safety and sustainability in plant operations. Many laundries have used new technology to process increased workloads with the promise of greater efficiencies. The IPR indicates that such gains aren't automatic, requiring more effective management in the years to come to keep labor under 20 points.
PMI Production tackles such managers' professional development by focusing on fundamentals of laundry production and operations from soil sort through delivery. Students entering the program are immersed in the key principles of productivity, safety, quality and sustainability. To set the stage for their return for the PMI Management phase of the program next August, attendees participate in a series of self-paced, online modules on topics such as human resources, communications, finance, time/project management and business ethics during the next 12 months. Upon completion of the classroom and online training, students are tested and can earn the Certified Professional Laundry Manager (CPLM) designation, the baseline of knowledge for all graduates. PMI Production attendees receive a copy of TRSA's new best-selling book, Laundry Operations and Management to help support the PMI curriculum.
Both PMI sessions require participants to collaborate on solutions to real-world scenarios presented as case studies. Visits to state-of-the-art laundries are part of the curriculum as well: this August PMI Production attendees will tour Alsco Inc.'s 120,000-square-foot F&B/hospitality plant built in 2016 in Lanham, MD; and PMI Management students will travel to Baltimore to visit the Up To Date Laundry facility, a 79,500-square-foot healthcare/outpatient medical plant built in Dec. 2017.
PMI is hosted concurrently with TRSA's 54th Annual Ehrlich-Stempler Executive Management Institute (EMI). Program participants gather together during free time, meals and evening social outings, which create unique opportunities for information sharing and socializing among leaders in the linen, uniform and facility services industry. PMI is an all-inclusive program, with one fee covering all educational components, meals, lodging, and transportation to and from evening events. Review the PMI brochure at www.trsa.org/pmi. Save 10% when three or more from the same company register.