Positek RFID Gets Patent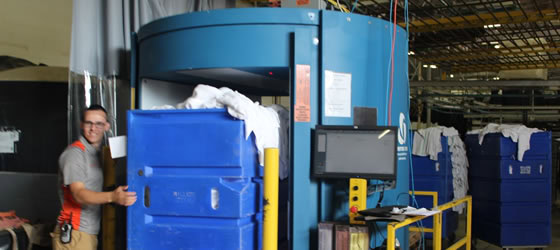 Above, an employee at Miller's Textile Services Inc., Wapakoneta, OH, processes textile goods in a Cyclone UHF portal, one of two pieces of equipment from Positek RFID that recently received patents.
Positek RFID, Norristown, PA, recently announced that it has been awarded a patent by the U.S. Patent and Trademark Office (USPTO) for its portal RFID technology. Positek RFID's Cyclone and Tornado RFID Portals enable companies to process large volumes of textiles efficiently, quickly and accurately, according to a news release.
Positek RFID provides reading solutions that specialize in volume tracking for the textile maintenance industry. The company's RFID technology tracks thousands of pieces with lightning speed and guaranteed accuracy. Any textile that has an RFID tag embedded can be loaded onto conveyor belts or into carts, containers, slings or other bulk-moving solutions, and can be scanned through one of their portals or tunnels.
"Our patented RFID technology provides a competitive advantage over other solutions available in the marketplace and is unique in textile management," said Jeffrey Markman, president of Positek RFID. "The advances we've made in RFID have a deep effect in the efficiency, processing and filling of orders for many companies that manage inventory around the United States. We are very proud to contribute to the textile industry's advancements in innovation."
Positek RFID's Cyclone RFID Portal and its Tornado RFID Portal are designed to scan thousands of RFID tagged items in seconds. The design of the reader limits reading outside of the portal and concentrates the signal where it is needed most.