Post-COVID Headaches Plague F&B Operators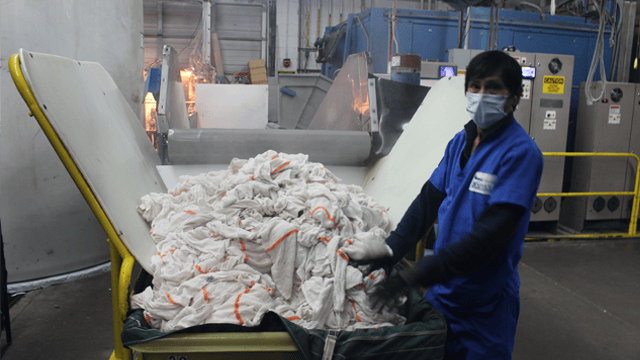 This time a year ago, if you'd asked food-and-beverage (F&B) laundry operators what they wanted most, they probably would have said an end to the COVID-19 pandemic. Now, with restaurants reopening thanks to a vaccination drive launched late last year, the emerging post-COVID era has brought with it a host of new challenges. These range from a lack of labor and materials to customer demands to cut prices, even as laundry operators' costs are rising sharply.
"Our customers are going to expect reductions in their rental rates," said Tim Topornicki, president of Topper Linen, Toronto, which currently limits dining to carry-out and outdoor venues. "It's going to become more competitive than it ever was before," Topornicki says. "People are becoming very aware of extra charges. I was talking to a chain (executive) yesterday and the CEO said to me, 'I don't want any of those (expletive deleted) extra charges, Topper!'"
Of the four operators contacted by Textile Services Weekly for this article, several said the key challenge now with reopening restaurants is finding enough labor to staff them. Anthony Brancato, a co-owner of Excel Linen, Kansas City, MO, says the labor situation with one customer is so dire that they are limiting access on some nights to parties of roughly 25 people to ensure that they have the staff to meet the demands. Others are limiting hours as they attempt to accommodate pent-up demand for inside dining. "Our restaurants are really struggling," said Noël Richardson, president of Shasta Linen, Sacramento, CA. "They can't get labor. Some of them, they're working four days out of seven because that's all they can get the help for."
Laundries are facing similar labor shortages. All of the U.S. operators we contacted said they're understaffed and keeping pace as best they can with overtime. Because of the trauma of COVID, some like Shasta Linen have given staff raises as well. Mario Stagliano, a partner with Arway Linen and Apron Supply, Philadelphia, says his staff consistently works nine-hour days, Monday through Friday, so each day has at least one hour of overtime. He takes volunteers to do a few more hours each day to help the laundry catch up. "We're doing one full shift, and then what we're doing is we're taking volunteers from 3 p.m. to 5 p.m. every day. So, we start at 6 a.m. and work until 3 p.m. Then we get volunteers for another two hours. Which we usually get anywhere from 8-12 people doing different things … sorting napkins, post-wash or continuing to sort soil. We're doing everything we can to just get that much ahead." Brancato adds, "It's crazy right now. We are about 75% of where we were BC (before COVID). However, we are still running overtime due to the employee shortage."
The good news, at least for the U.S. operators we spoke with, is that business is picking up, even if it's 20%-30% off pre-COVID levels. When asked if the F&B business is recovering, Stagliano responds, "Yes, totally. As far as our restaurant weekly or twice-a-week deliveries for our par-level accounts, they're rocking." He adds that lucrative events at area colleges and similar venues are likely to pick up this fall as well.
While operators welcome the recovery, shortages – particularly of F&B textiles – have exacerbated the lack of labor cited above. Stagliano and Richardson, who also is chair of TRSA, said they were careful last year to get route service representatives (RSRs) to collect linens when restaurants closed. That means there's lots of stock on the shelves. However, as demand accelerates, ordering replacement goods is taking longer than before. "We're lucky all of our vendors have been pretty much able to accommodate (us)," Stagliano says. "Except for textiles. Some of our suppliers, they're still waiting for their stuff to come from overseas. Their stuff's sitting at ports, they can't get drivers to pick it up. So, I've got a whole lot of stuff that's on back order from (vendors). Just as soon as it comes in, they said 'We'll send it to you.' But there's a whole bunch of stuff I'm waiting on."
Not surprisingly, merchandise costs are up as well. Topornicki orders his textiles by the container load from overseas. So far, he's OK due to the limited demand, but if business picks up in Canada the way it has in the U.S., he could face a dilemma over expenses. "Container costs have tripled," he says. "What it costs for a container. We were paying $3,500 for a container for shipping costs for hangers. I've been told now it's $10,000."
Topornicki, who experienced a devastating plant fire in 2017, now has a fully rebuilt laundry. He says he's determined to carry on. Like many of their restaurant customers, each of the laundry operators we spoke with have benefited from government aid, such as the U.S. Paycheck Protection Program (PPP). Canada has a similar subsidy program with a sliding scale based on sales. As these programs wind down, including the scheduled expiration of a weekly $300 bonus for unemployment in the U.S., it's possible that the labor situation will stabilize, several operators said.
In any event, despite the reopening challenges described above, surprisingly few restaurants have gone out of business. That was a pleasant surprise for operators, including Stagliano, who said. "We only had, maybe in all since all the COVID stuff, maybe 10 locations out of 1,100 close up for good. We were thinking at one point we may not see 30%-40% of our customers reopen. Nobody knew. Now they're back and they're rocking!"