Presentations to Guide Employers in Helping Employees Cope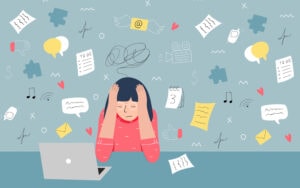 Is your business a "safe space" for your staff members to vent their fears and frustrations arising from today's economic and social pressures? These are tenuous times for many individuals to maintain comfortable working relationships and remain mentally healthy. TRSA's Diversity, Equity and Inclusion Committee will conduct virtual informational forums in upcoming months to support member organizations in achieving these.
How to Cope with Burnout in the Workplace, 2 p.m. Eastern, August 30
Kortney Overzet, director, People Operations & Culture, Spindle Technologies
Individuals may not display signs of burnout but may experience this malady for a variety of reasons. This session will help you identify signals it's plaguing someone and how to how to help yourself and employees develop a better work-life balance.
Workplace Harassment Interactive Virtual Workshop, 1:30 p.m. Eastern, September 29
Melanie Shong Helm, CCEP, Corporate Director, Human Resources, Crown Health Care Laundry Services
Learn to spot harassment that can occur in a variety of circumstances, such as:
Whether it's taking place by the victim's supervisor, a supervisor in another area, an agent of the employer, a co-worker, or a non-employee
How individuals are victimized not by being harassed personally, but are otherwise affected by the offensive conduct
When unlawful harassment occurs without economic injury to, or discharge of, the victim
How to Cope through Stressful Times, 2 p.m. Eastern, November 30
Stress from COVID, heavier workloads sparked by labor shortages, fear of mass shooting and hate crimes and financial woes are new experiences for many individuals. They need to know they're not alone and your business can be a psychologically safe space for them to express their stress and feel supported. This session will recommend ways to create this space.