Production Summit Thrives on Diversity of Industry's Operations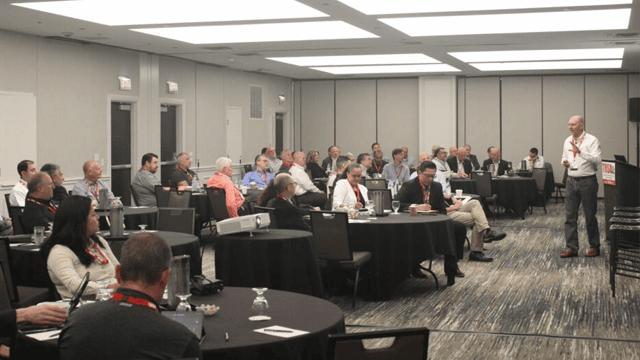 Manifesting TRSA as a collaboration of members from single-plant local companies to international chains, the May 18-19 Production Summit & Plant Tours in Chicago reflected participants' interest in learning about practices from industry colleagues whose organizations don't exactly resemble their own. The 80 attendees also were intrigued with consultants who offered economywide perspectives on labor force issues, giving the group ideas about how to improve employee recruiting and retention.
Information-sharing and networking culminated at this event May 19 when two of America's largest operators in the industry opened the doors of their local operations to Summit attendees. UniFirst Corp. invited them to their 64,000-square-foot Hammond, IN facility, barely one year old. Alsco Inc. rolled out the red carpet at its 20-year-old 185,00-square-foot Chicago plant. Both hosts described to attendees not only what they saw, but why management chose their various plant systems.
The Summit's final education session May 18 brought the perspectives of local and regional companies to addressing labor shortage challenges. This panel discussion shared the experiences of single-plant operator Roscoe Co. (Chicago) and larger counterparts: United Hospital Services, Indianapolis; Clean Uniform Co., St. Louis; and Morgan Services, Chicago.
During that panel, representatives of those operations, in addition to providing insights into their companies' practices, evaluated the observations of the outside consultants who spoke earlier in the day. They were Kevin Ames, formerly of the Franklin Covey leadership and OC Tanner workplace culture consultancies, who has worked with more than 1,500 companies, including most of the Fortune 1,000; and Kathleen Quinn Votaw, founder of TalenTrust, an expert in recruitment that teaches companies to recruit for themselves.
Just before that finale, Paul Rasband, Alsco supply chain director, provided a list of what's worked and what hasn't for the company as it has mitigated recent difficulties procuring supplies and equipment. The veteran of this role for 20 years, with a background in finance, he explained how COVID-19 broke the company's purchasing strategies and prompted new needs for service, quality and pricing.
Other general sessions featured Kevin Schwalb, TRSA government relations director, on the association's successes in advocacy and its most recent legislative and regulatory concerns; and John Schultz, technical director, Water Solutions, Ellis Corp., Itasca, IL, whose assessment of lurking wastewater compliance challenges included nutrient pollutants, microplastics and per- and poly-fluoroalkyl substances (PFAS).
Rounding out the presenter corps were Bob Bowe, senior consultant, Performance Matters, Columbia, SC, on plant health and safety; and Claudia Keirn, finance director, Wildman Uniform, Warsaw, IN, on benchmarking.
Weighing Ideas to Address Labor Shortage
Industry operator panelists who shared their experience on recruiting and retaining production workers were Miriam Avila, production team leader, Roscoe; William Muse, a production veteran, now sales and service director, United Hospital Services; Kyle Newsome, supply chain manager, Clean Uniform; and Brandt Bowen, national plant operations manager, Morgan Services.
They were asked their opinions of the more novel ideas for the industry Ames and Votaw presented. Ames, for example, posited that "people are getting tired of not being well," which he tied to individuals needing to feel a "deeper sense of meaning, of fulfillment, of doing something with my life, a mutual contribution to the well-being of others." If workers believe your company exists for that contribution, they will stay with you, but you need to make that happen systematically, with leadership and a sense that the organization can create its destiny.
Panelists pointed out that the pandemic has been a major challenge to individuals' mental health. Plus everyone is tired of the pandemic directing our lives. They agreed that individuals need more than ever to feel they have some control over their future. The industry's stability can contribute to this. Companies probably could better promote their longevity and recession resistance in job advertising.
They liked Adams' mention of the industry's impact on everyday living – that in some respects, linen and uniform services frequently touch our lives, personally or professionally. Greater consideration of this in our industry's workplaces could help improve retention by addressing the need for workers to feel more fulfilled. Increased expression of appreciation for workers' contributions would be a plus, too.
Panelists diverged from Adams to some degree regarding his comment that workplaces need "lots of fun. If you're not having fun, they're not having fun, either. Happy people don't move around. Happy people go where other happy people are." Work can't always be fun, panelists noted, but moments at work can be. Overall, laundry jobs can be enjoyable, especially when factors such as those Adams described are part of the work experience.
Votaw encouraged the industry to think "talent acquisition" rather than "recruiting." The former suggests the need for sales expertise; the latter, HR, who are the wrong people to oversee this function at this time, when it needs upgrading, considering that good hires are so hard to find. She diagrammed a process for talent acquisition reminiscent of the traditional steps to making a sale (lead generation to closing).
After asking the TRSA audience to philosophize about why people work and getting answers including "money" and "fulfillment," she countered with one key reason: to take care of their families' range of needs, as basic as keeping family members healthy and as complicated as sending them to school. "Employees don't work for you. No one ever did. They work for their families," she said.
The panel agreed with that philosophy and expressed confidence that our industry's HR and sales personnel can work together to find and acquire talent. TRSA is already leading this charge, as its HR and Marketing & Sales committees are collaborating. To develop messaging to attract more employees to linen and uniform services, they're using data from the recent TRSA Market Recovery and Expansion research project that shows public respect for the industry's fundamental business objectives.
Another Votaw idea: "We have written processes for hiring customers that focused on the customer journey to the sale. We need the same rigor around job candidates." She referred to a 12-month process for hiring, akin to planning a year's worth of periodic, separate sales campaigns each to promote a particular product or target a specific market. Panelists saw the applicability of the concept to talent acquisition and indicated it could be a viable strategy for attracting talent.
They were hesitant to endorse Votaw's apparent endorsement of the idea of inviting employees' families and friends to a catered lunch to encourage candidate referral. Feeding hundreds of people for this purpose might not pay off. But the panelists saw great value in special dining events on-site, including potluck. Such events tend to reinforce team building and would likely have a positive impact on retention.