Productivity, Safety and Staffing Highlight Prod. Summit Topics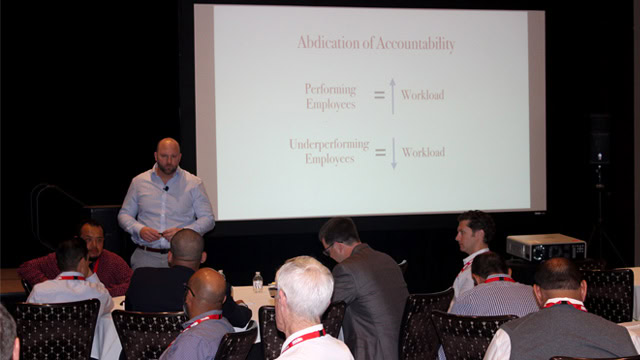 TRSA recently held its Production Summit & Plant Tours at the Palms Casino Resort & Spa in Las Vegas. The two-day summit featured discussions on several key industry issues, including how to boost productivity, safety regulations, and recruiting and retaining production staff.
The Production Summit kicked off on Oct. 22 with a keynote from Eric Papp, titled "Building a High Trust Team and Creating a Collaborative Culture." The founder of Agape Leadership LLC hosted the interactive workshop and offered summit attendees several strategies for creating a sustainable, motivational production environment and building a high-trust team. Papp also held a presentation for MMI attendees.
In addition to Papp's keynote address, the morning included a presentation by Caleb Paige, safety director, Faultless Laundry Co., titled "Safety Regulations Production Managers Should Not Ignore" and an operator panel on productivity trends and techniques. The panel featured Johanna Ames, president, Ames Linen Service; Tyler Burke, executive vice president, Loop Linen Service Inc.; and Mike Chambers, production specialist, Alsco Inc. Don Maida, senior consultant, TBR Associates, moderated the panel.
Breakout session topics covered at the summit included:
Communicating with Engineering: Preventive Maintenance and Equipment Breakdowns
Inventory Control for Production Efficiency
Peer-to-Peer Problem Solving
Water Recycling and Conservation
The Summit closed the first day with a brand-new interactive session dubbed the "Great Ideas Swap," a facilitated group discussion designed to encourage attendees to brainstorm and share creative strategies to recruit and retain employees. Topics discussed at the session included:
Staffing for day-to-day operations
Motivating employees and creating a positive workplace culture
Training and developing your staff
Effective strategies for retaining employees
The Production Summit closed the following day with tours of nearby Brady Linen Services and Nevada Linen Supply. TRSA's MMI attendees also toured the plants.