Protect Your Business from Cyber Threats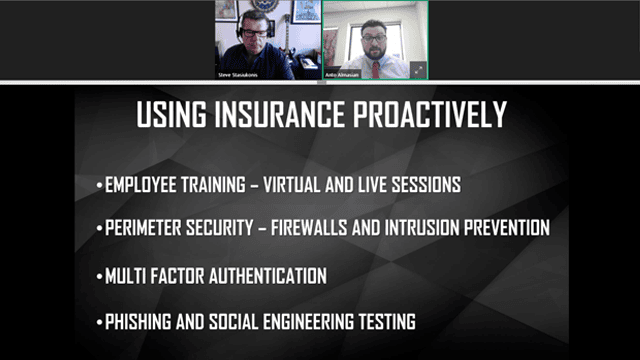 TRSA recently hosted a webinar presentation to educate linen, uniform and facility services industry operators and supplier partners on cyber threats and how to protect their systems from intruders.
The March 17 webinar, titled "Cybersecurity: What You Need to Know," was hosted by Anto Almasian, AAI, risk management advisor, Haylor, Freyer & Coon; and Steve Stasiukonis, president, Secure Network Technologies. The duo covered the following topics during the hour-long presentation:
What the cyber landscape in 2022 looks like
How threats like social engineering and ransomware can be particularly dangerous for businesses
What the dark web is and how cyber criminals are using it
The ways that businesses can proactively protect themselves from cyber losses
Visit TRSA's webinar calendar online at www.trsa.org/calendar for a complete list of upcoming webinars and events. TRSA's next webinar presentation will be a Legislative Conference Orientation hosted by TRSA's Vice President of Government Relations Kevin Schwalb on March 22 at 1 p.m. EDT. Click here to register for the webinar.
Additionally, visit TRSA's On-Demand Learning Center at www.trsa.org/ondemand to access more than 100 industry-specific professional-development and training webinars, videos and e-learning courses on a range of issues including emerging regulatory/compliance issues, safety best practices and strategies for enhancing productivity. Many of the training resources are free for TRSA members.