Puerto Rico – Recovery Slowly Moves Forward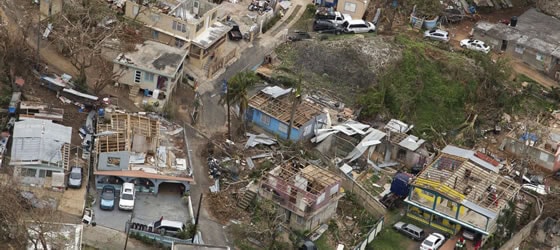 Homes and businesses in much of the interior of Puerto Rico remain isolated and heavily damaged after Hurricane Maria, but residents in coastal areas, including Bayamon, where TRSA member Cadillac Uniform and Linen Supply is located, are moving forward with a gradual recovery process.
That was the cautiously optimistic view expressed by Michael Shulevitz, president of Cadillac in a recent interview with Textile Services Weekly. Communications, either by cell phone or Internet have been "spotty" since the storm raged through the island on the morning of Sept. 20, Shulevitz said.
Cadillac, which is about 20 miles south of the capital San Juan, experienced some roof and water damage, but losing an electrical substation was the biggest problem for the company. To his knowledge, the company had no casualties among its staff, Shulevitz said. "Most of the staff has made it in by now," he said. "There's one or two people that we haven't heard from yet."
The plant currently is running and customers are gradually moving toward a normal pace of ordering, he said.
"We are more or less up and running," Shulevitz said. "We lost the built-up roofing on our office warehouse. Our office building pretty much had extensive water damage. The warehouse is somewhat usable."
When the electricity went out due to wind damage to a nearby substation, Cadillac had to turn to diesel-powered generators for electricity. Keeping the plant's 3,000 gallon tank filled with diesel was the first major problem because in the immediate aftermath of the storm communications were down.
"We lost our substation, so we're on standby power," Shulevitz said. "The storm was Wednesday morning (Sept. 20). By Saturday, we were actually running a little bit, but then we shut down on Saturday and on Sunday. We realized that we didn't have a reliable supply of diesel. So we basically organized and sent people out because there's no communications. We sent people out to talk to our diesel suppliers and we set up two trucks, with chemical totes that we washed and went and picked up our own diesel."
Early on, getting diesel or gasoline was difficult because air and port operations were disrupted. People were waiting 10-12 hours to get gasoline, Shulevitz said. Fortunately, the company kept limited supplies of fuel on-site and was able to eke out the early days after the storm with limited production as customer operations such as pharmaceutical manufacturers began to resume production.
"We were delivering to hospitals," he said. "Our hospital customers never really ran short of materials. Last week, we started serving some of our big pharmaceuticals. A few of them opened up and started asking for service, so we opened up our major customers."
This past week, Cadillac resumed route operations. One truck was damaged with a broken windshield, Shulevitz said. Route drivers were told to exercise maximum caution, particularly in the interior of the island due to safety concerns. "This week we started going on the routes," he said. "We did limit the time on the routes. They're leaving a little late, we're asking them to come in a little early, even if that means missing customers because we just don't want people out at night. It's very dark around here."
Shulevitz said he visited some customers and prospects in the interior of the island recently and he was struck by the level of devastation he saw there. "It kind of looks like winter, except in winter you still have all the twigs on the trees," he said. "Here the twigs are gone also. So it's just the big limbs. And everything's grey and brown." The Category 4 hurricane with its 150 mph winds scored a direct hit on the island, moving from the southeast to the northwest.
Most small businesses survived the storm, but not all have reopened yet due to the limited access to utilities. "We're finding 50%-60% of our small customer base is open," Shulevitz said. "A very small portion is damaged or gone. Most of the rest, they're waiting for electricity and water."
Shulevitz was cautiously upbeat in his assessment of the government's response to the hurricane, which he said was by far the worst he's experienced. "Mike Pence is coming to visit today," he said, speaking of the vice president's planned visit to the island on Oct. 6. "And no one is looking forward to it because the traffic jam it causes is insane." The disaster response in urban areas is adequate, but more needs to be done in the mountainous interior of the island, he said. "I personally think they're doing a decent job," Shulevitz said. "I'm not in the remote areas. … one of those people who can't get supplies and needs water and food. I live in the capital in the old city. I was able to get to work on Thursday at 8 o'clock in the morning."
As for emergency preparedness, Shulevitz said his staff go over planning for hurricanes every June. The problems that they'll work on for next time include focusing on how to deal with lost phone service and perhaps getting larger tanks for diesel storage to run generators after a storm. "I think the lack of communication is something that needs to be thought about," he said. "I can't tell you what the answer is. But we lost time because I couldn't get a hold of people." One solution may be to require management staff who can get to the plant to check in every couple of hours, when electronic communications are unavailable.
The issue with diesel is that large suppliers will only supply large quantities of fuel. This complicates efforts to arrange for backup supplies, Shulevitz said. "You really need to think about larger tanks because you'd like to have a few days' supply and still be able to order that 1,000 or 2,000 gallons." Click here for an update on damage from Maria and other recent hurricanes.