R.W. Martin and Western State Design Collaborate on Steamless Laundry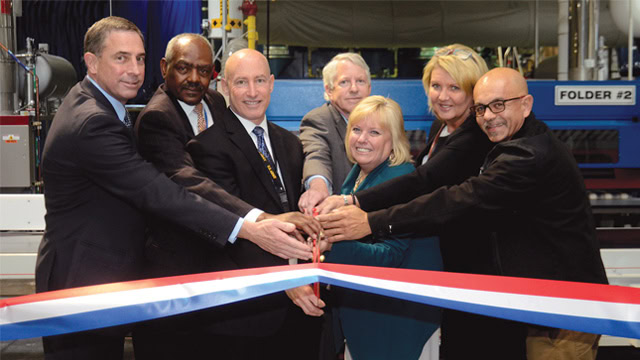 Dedication ceremonies were recently held for the renovated textile care processing facility at the West Los Angeles Veterans Affairs (VA) Medical Center in Los Angeles, now considered one of the most automated facilities in the VA system. The facility, which was originally built in 1999, was modernized by government-selected contractors and TRSA members Western State Design Inc., Hayward, CA, and R.W. Martin Co., Kent, OH, according to a news release.
More than 100 attendees enjoyed tours, presentations and refreshments at the open house and ribbon-cutting ceremony held on Jan.16. Members of the laundry industry and VA senior management gave presentations regarding the systems design and operational improvements.
Shawn Martin, CEO/project manager, R.W. Martin, gave a detailed explanation regarding the project-management challenges of such a unique initiative. The modernization effort has already received numerous national VA awards for energy and water conservation, and has passed all locally required emission reviews of the Chicago Dryer gas-fired flatwork-finishing system. In concert with continuous batch washing and drying, the new laundry design also includes a staph barrier anteroom for washer/extractor operations – a first for the entire VA system.
The modernization of this 45,000-square-foot laundry facility was completed in phases over the past several years, with a total cost estimated at $14 million. Key equipment partners supporting this modernization-automation effort were Pellerin Milnor Corp., Chicago Dryer Co., E-TECH, Parker Boiler, Thermal Engineering of Arizona, Softrol Inc. and Colmac Industries. Project design was provided through David Pelligra Architects Inc. of Cuyahoga Falls, OH. R.W. Martin's Timothy Campbell served as project superintendent.
The facility provides healthcare laundry services for VA West Los Angeles and VA Long Beach Healthcare Systems.