Rays of Hope: Uniform/Linen Survey Shows 3Q Improvements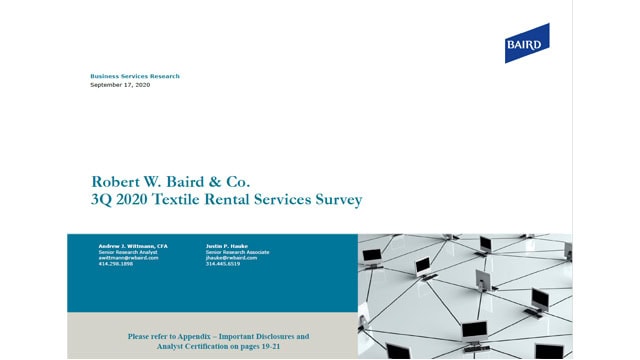 A new survey of linen, uniform and facility services companies by Robert W. Baird & Co. shows the uniform rental industry bouncing back in the third quarter, following a dismal second quarter that reflected the brunt of a COVID-19-related downturn. The linen rental side also showed unexpected 3Q20 growth, despite the pandemic's ongoing impact on hospitality businesses.
"This is somewhat surprising, given the heavier skew toward the hotel and restaurant industry, though the reopening of subacute healthcare seems to have been an important factor," said study co-authors Andrew Wittman and Justin Hauke, speaking of the Linen Rental Survey. "All metrics improved sharply from 2Q20 levels and the growth outlook is now solidly positive, following a negative outlook last quarter. Only 50% of respondents reported 3Q20 revenue trends 'below expectations.'"
The uniform side's responses were even more upbeat, according to the survey that was sent to 275 privately held uniform/linen rental companies across North America. The 3Q20 findings were drawn from 21 respondents. "Our 3Q20 survey saw a sharp rebound, much faster than 2008-2011's recovery, with most business metrics approaching stabilization and the growth outlook improved from prior bottom," Wittman and Hauke said.
Broadly speaking, the survey of uniform rental operators saw a dramatic improvement from the previous quarter. However, the survey cautioned that recovery is split or "bifurcated" in as much as some uniform rental companies are recovering briskly, while others are still struggling. "The 'K-shaped' recovery is the underlying theme," the report said. "Some end markets/geographies showing good gains, others still mired in lockdown."
Highlights of the 3Q20 Uniform Rental Survey include:
Rental Revenue Trends. 47% of respondents fell short of internal revenue projections for the quarter with 26% meeting target. 26% also exceeded growth plans. Improvement since 2Q20.
Add/Stops. Employment-driven expansion at existing accounts (i.e., Add/Stop Diffusion Index) rebounded to a mostly neutral 47.5. This is a sharp recovery from 15.8 in 2Q20, the lowest reading since March 2009. The last recession saw add/stops hold sharply negative for years.
No-Programmers. The no-programmer diffusion index improved to a Neutral 50.0, from 36.8 last quarter. Anecdotal commentary suggests new sales efforts recovered in 3Q20 after a sharp stop in business activity in 2Q20. Healthcare, facility services, and sanitation/personal protective equipment support are areas of relative strength.
Growth Outlook. 12-month growth expectations have rebounded to ~3% after dipping sharply last quarter. Response rates vary considerably here, however, showing a bifurcated recovery. End market mix and geographic position are determining outlook. In general, more big city exposure and/or hospitality mix, the worse. Not surprising.
On the linen rental side, as noted above, conditions reported by the survey respondents showed marked improvement in the third quarter vs. the severe 2Q20 contraction.
Highlights of the 3Q20 Linen Rental Survey include:
Rental Revenue Trends. 50% of respondents cited rental revenue trends falling below expectations in 3Q20 with 21% citing revenue near expectation and 29% actually reporting trends above expectations. This is much better than last quarter's 89% of respondents falling short.
No-Programmers. No-programmer interest showed quarter-over-quarter improvement and turned positive at 53.6 after dipping negative (36.1) for the first time since Baird began tracking this industry category in 2015 last quarter.
Growth Outlook. Forecasted 12-month revenue is now expected to grow, increasing 1.7% versus last quarter's expectation for a 4.2% decline.
Click here to see the full survey released on Sept. 18. Readers with questions may contact Wittman at awittman@rwbaird.com.
Additionally, TRSA recently released its Business Pulse Survey results for August/September 2020. Click here for details.