Regional Zoom Participants Gain Insight into Texas Politics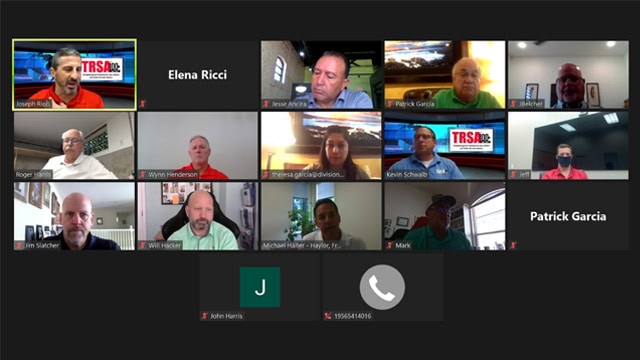 TRSA recently hosted a Texas Regional Zoom Meeting facilitated by TRSA President & CEO Joseph Ricci and Vice President of Government Relations and Certification Kevin Schwalb. Ricci and Schwalb were joined by a special guest during the call – TRSA's Texas-based Legislative Consultant Jesse Ancira, founder and principal, Ancira Strategies.
Ricci opened the meeting by thanking members for their dedication and commitment during the COVID-19 crisis, and providing the motivation behind TRSA's efforts to provide information and advocacy. Schwalb offered updates regarding pre- and post-COVID legislative and regulatory activities, such as defeating California's effort to require mandatory filtration of "all" microplastics and clarifying language in Indiana securing continuous tax benefits saving each plant "tens of thousands of dollars."
Schwalb further highlighted TRSA activities from mid-March through July including:
Fighting successfully at the federal level and state-to-state to earn the linen, uniform and facility services industry, including its supplier partners, critical/essential business recognition.
Reopening guidance for restaurants and hotels to help increase the public's confidence in returning safely to travel and dining out, including securing federal Food and Drug Administration (FDA) and Centers for Disease Control and Prevention (CDC), as well as state, recognition of using hygienically clean reusable linens after they were initially instructed to use only disposable products.
"With hurricane season approaching, we have leveraged contacts developed during the COVID crisis to discuss with FEMA (Federal Emergency Management Agency) the essential products and services provided by our members required for disaster recovery with the objective of securing FEMA recognition as a priority industry throughout periods of disaster and recovery," Schwalb said.
Ancira offered the group insight into the upcoming state elections and potential issues impacting the linen, uniform and facility services industry that may be raised during the upcoming 87th Texas Legislative Session starting Jan. 12 through May 31, 2021. The biggest influence on the next session will be if the Republicans can maintain the majority and the next Speaker of the House. The legislators will be focused on COVID response and recovery. During the last two sessions, TRSA has led an effort to reduce the Texas franchise tax, successfully moving through both the House and Senate in 2018. However, with potential new leadership and significant budget deficits pursuing this for a third session is unlikely.
Participants shared insight into the impact of the COVID pandemic and economic shutdown, as well as their recovery which depends heavily on customer markets and regional reopening status. The group discussed introduction of new direct sale products such as hand sanitizer and single-use personal protective equipment (PPE). Several also highlighted recent American Dental Association (ADA) reopening guidance that highly recommends PPE changes before, during and after every patient. To read the guidance, click here.
Roger Harris, CEO, Metro Linen, offered his appreciation for TRSA's efforts on behalf of the industry as the Regional Zoom Meeting adjourned. "We really appreciate the amount of work you all have been doing, and working on," Harris said. "I was shocked that all that took place while we were sitting here with empty plants. You do the industry one heck of a service."