Regulatory Risks: TRSA Updates its Members on PFAS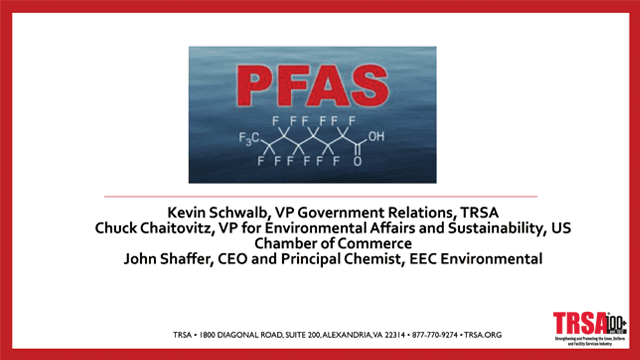 TRSA held a webinar on Jan. 19 to update its members on the most recent information concerning per- and polyfluoroalkyl substances (PFAS) and their impact on the linen, uniform and facility services industry through potential government regulations.
TRSA's Vice President of Government Relations Kevin Schwalb facilitated the hour-long discussion that featured a pair of environmental experts. Chuck Chaitovitz, vice president for environmental affairs and sustainability at the U.S. Chamber of Commerce, discussed how PFAS is affecting all industries in addition to linen, uniform and facility services. His presentation, titled "PFAS Policy Landscape," highlighted the economic impact of cleanup costs associated with PFAS, as well as state policy examples and potential legislative priorities moving forward.
John Shaffer, CEO and principal chemist at EEC Environmental, gave an overview of the latest updates from the National Association of Clean Water Agencies (NACWA). He also discussed how specific states are handling the issue of PFAS, including a study conducted in Michigan that highlighted potential sources of PFAS in its wastewater. Shaffer noted that many laundries are hearing from their POTWs (publicly owned treatment works) through questionnaires, PFAS sampling and letters asking for PFAS best-management practice compliance plans.
Click here to view the recording of the presentation in TRSA's On-Demand Learning Center, which contains more than 150 industry-specific professional development and training webinars, videos and e-learning courses on a range of issues, including emerging regulatory/compliance issues, safety best practices and strategies for enhancing productivity. If you have questions regarding PFAS, contact Schwalb at kschwalb@trsa.org.
Thanks to Milliken & Co., Spartanburg, SC, for sponsoring the webinar. For a complete list of upcoming webinars and events, visit www.trsa.org/calendar.