Reopening Tour Part II: TRSA Visits Midwest Members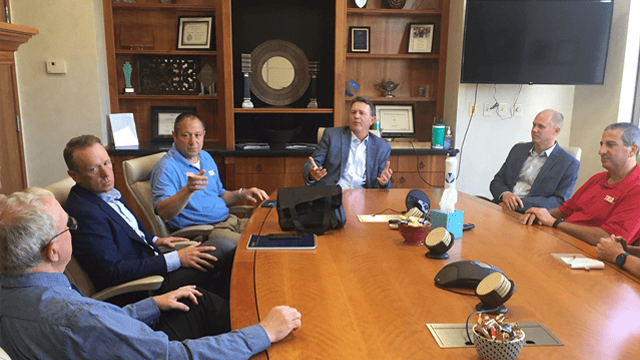 Videos and photos from the June 20-25 stops on the Midwest leg of TRSA's Reopening Tour can be viewed on TRSA's Facebook, Instagram, LinkedIn and Twitter pages; same for followers of the social media accounts of Joseph Ricci, TRSA president and CEO; and Kevin Schwalb, TRSA's vice president of government relations.
The TRSA posts reflect members sharing their experience in COVID-19 recovery, including vaccination strategy and employee recruiting strategies. Videos, found on the TRSA Facebook and LinkedIn pages, include interviews with member company employees describing their work experiences, providing an opportunity for companies to share the links and use these videos for recruiting.
The Reopening Tour's visits to operator and supplier-partner members highlight the economic recovery and our industry's contribution to the economy. The 2,500-plus mile road trip through eight Midwest states concludes on July 1 when TRSA staff complete the final leg of the trip from Chicago back to the association's headquarters in Alexandria, VA.
TRSA staff members on the Midwest leg are Ricci, Schwalb, Tom Newell and Ken Koepper, who visited the following companies from June 20-25:
CleanCare, Pittsburgh
Paris Healthcare, Ravenna, OH
R. W. Martin, Kent, OH
Rentwear, North Canton, OH
Morgan Services, Cleveland
Miller's Textile Services, Wapakoneta, OH
Economy Linen, Dayton, OH
WSI, Loveland, OH
Cintas Corp., Milford, OH
P&G Professional, Cincinnati
Alsco Uniforms, Indianapolis
Plymate, Shelbyville, IN
Crown Linen, St. Louis
Clean Uniform, St. Louis
Linen King, Columbia, MO
The TRSA Reopening Tour will continue with several visits scheduled for the week of June 28. Stay tuned to Textile Services Weekly for a full recap following the conclusion of the tour, and continue following TRSA's Facebook, Instagram, LinkedIn and Twitter channels for images, videos and daily highlights from the road trip.
To read more about the TRSA Reopening Tour trip to the Southeast in April/May, click here. In addition to the Midwest trip that is currently underway, TRSA is planning visits to the Northeast, West and Southwest later in the year.