Respondents Note Revenues Trending Up in Latest Baird Survey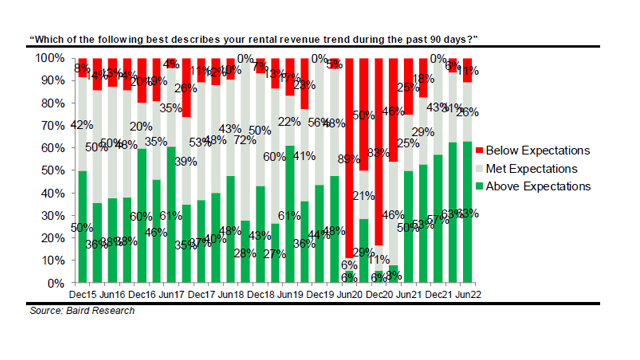 Robert W. Baird & Co. and TRSA recently released the June 2022 (Second-Quarter 2022) Uniform & Linen Rental Survey. The results noted rising revenues among survey respondents in the second quarter as well as a positive growth outlook among both uniform rental and linen rental operations.
Key uniform rental survey findings include:
Rental Revenue Trends. 38% of respondents beat their own revenue expectations for the quarter with just 6% falling short. This is better than last quarter with the 32% spread showing very solid net gains.
Add/Stops. Employment-driven expansion at existing accounts (i.e., Add/Stop Diffusion Index) held in positive territory at 51.6, but moderated from recent quarters (index measures the relative quarter-over-quarter change). This is consistent with recent "slowing" labor trends data.
No-Programmers. The no-programmer diffusion index moderated to 50.0 (from 51.5) and is little changed from recent quarters of "modestly positive."
Growth Outlook. Industry consensus now sees roughly 5.9% organic growth over the next 12 months, easily a record. Offsetting are anecdotal comments suggesting the cost of goods sold (COGS) increasing faster than revenues.
Key linen rental survey findings include:
Rental Revenue Trends. 63% of respondents cited rental revenue trends above expectations with 26% in-line, and just 11% falling short of expectations. The relative spread is holding near record levels.
No-Programmers. No-programmer interest remained solidly positive at 57.9 and improved modestly from last quarter's reading. The index has been in expansionary territory since dipping negative in 2020.
Growth Outlook. Forecasted 12-month revenue outlook improved to +6.4%, a new record as the highest rate of forecasted growth in the Baird survey's history (since December 2015 for this sector).
Click here to review the survey results. If you have questions or want to participate in the survey moving forward, contact Baird Senior Analyst Andrew Wittmann at awittmann@rwbaird.com or Senior Research Associate Justin Hauke at jhauke@rwbaird.com.