Retail Launderers Recount Paths to Success in Commercial Markets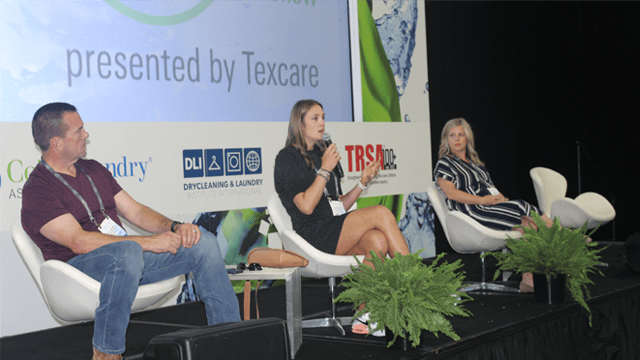 A Clean Show seminar on July 30 featured a panel of entrepreneurs in linen, uniform and facility services who started in consumer (retail) laundry. They shared strategies and tactics to support audience members pursuing or considering the same path to diversification. Panelists discussed numerous aspects of laundry and service operations, from the genesis of their forays into the business-to-business realm to the present-day challenges of linen and uniform service in the wake of COVID-19.
Monika Manter, co-owner, Balfurd Linen Service, Tipton, PA, the largest operator on the panel, recounted her grandfather's decision to get into uniform rental when he became concerned about potential growth of at-home retail drycleaning. While that threat never materialized, it did prompt a move into industrial uniform rental and later linen service to restaurants and medical facilities. Today the B2B operation is spread among two facilities, a 50,000-square-foot rental plant and a smaller retail plant that accommodates customer-owned-goods (COG) for business customers.
Manter expressed a preference for rental and noted the difficulty of processing both COG and rental in the same location. Because rental customers are under contracts, the value of the business is higher, making it more attractive to sell. But buying textile inventory can be tricky with upfront costs and pandemic-induced supply shortages and other logistical issues.
Kelley Dixon, owner/GM, St. Croix Linen, St. Paul, MN, worked for local corporations after college, but caught the entrepreneurial bug and asked her father how she might join his retail laundry business. With no room for her there, in 2017, she "decided to get a washer, dryer and ironer and get out there and see what would happen." That would turn out to be taking over following the bankruptcy declaration of a laundry that served hotels as well as a major airline that uses blankets and first-class linen. Her solution: resurrect a 4,000-square-foot former retail facility her father had cleared of equipment ("it had only rails and dust") practically overnight to handle the hotel and airline work.
This generated enough referrals from restaurants and other hotels to spark the move to a 35,000-square-foot facility with a tunnel washer, a "huge" ironer and towel folder. "We decided we would go big with hotels," given that there was only one other player in the market at the time. They added three hotels before COVID hit, which closed their doors for a couple of weeks. When they reopened, they shifted the focus to restaurants. While they still have plenty of COG, they also got some healthcare business, and F&B is now their larger market.
Dan Campbell, owner, Wash Around the Clock, Tallahassee, FL, got into the laundromat business in 2004 and was exposed to the idea of diversifying into B2B at the 2005 Clean Show in Orlando. Less than 10 years later, that idea would flower when he built out a store and had 5,000 square feet to spare. He thought about renting it to another business but that would require sharing parking spaces with a tenant, which he needed for his coin laundry business. Instead, he bought four washers and an ironer ("at the beginning we didn't use dryers") and followed the same path as Dixon.
Wash Around the Clock's B2B venture started with a friend's barbecue restaurant after that friend asked him to review the contract proposal from another linen service. This set the tone for Campbell's contemporary approach: "a small boutique operator" who avoids contracts and processes both COG and rental. He realizes the some might view the latter as risky, but he encouraged others to follow the same path if they're well prepared, namely able to get a line of credit. Campbell offered a medical marijuana customer as an example. At first, he thought serving this account would require a $25,000 inventory commitment; it ballooned to $125,000 in three months.
Such shifts are manageable when you've built your operation on a base of strong local business customers. "Whatever market you are in, talk to these businesses about where the opportunities are, and the opportunities will come right out at you," he said. Campbell felt he could compete with national operators partly because of COG ("for the most part, they don't do COG") and partly because you can find customers who appreciate rental. When you purchase inventory, he noted, and rent it on the proper terms, it will be a win-win with accounts that recognize the value of not investing in textiles themselves.