Ricci Gathers Global Intel on National Associations Call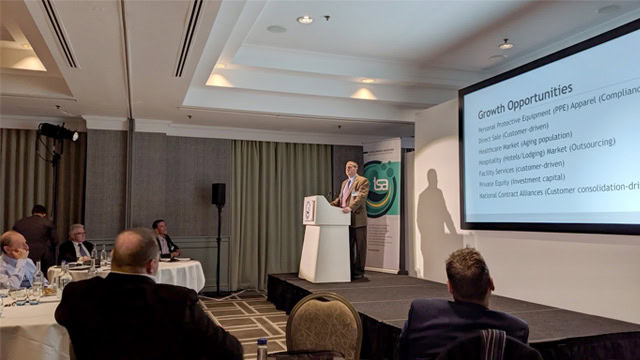 The European Textile Services Association (ETSA) recently hosted a monthly COVID-19 update with an audience of global linen, uniform and facility services association executives. The most recent call was hosted on July 28, and included Joseph Ricci, the president and CEO of TRSA.
The call kicked off with updates from each association executive on the state of the COVID-19 pandemic in their country. National COVID updates included the following:
GEIST (France): Better except for Paris. Questions about Autumn.
Laundry Association of Australia (Australia): Less hit than many other countries. Has become more regional. Still sensitive for age care, meat processing, clusters of schools and religious communities.
FBT (Belgium): Second wave. Contact with Belgian authorities at the highest level. New restrictions introduced this week.
TRSA (United States): Still crisis situation. Industry figures still down considerably, particularly hotels and F&B. Next meetings in March 2021.
DTV (Germany): Hospitality still struggling, particularly in cities. Other holiday locations OK.
TSA-UK (UK): Hotels in big cities, particularly luxury hotels in London, are badly hit. Stay locations ("room pod") OK: occupancy high, linen usage down. Furlough system ending in October likely to cause further layoffs.
Ongoing projects discussed on the call included:
The TSA-UK hospitality pledge – https://www.tsa-uk.org/news/rest-assured-uk-laundries-pledge-to-hospitality-industry.html
The Interim Healthcare Laundry Certification – https://www.tsa-uk.org/resource/interim-healthcare-laundry-certification.html. Many UK companies (14) have signed up.
TSA-UK DMU study progress report – Key outcome expected: data and reasoning to show linen, uniform and facility services are better than home washing in managing hygiene risks.
TRSA animations promoting linen in restaurants. First three videos posted on new version of ETSA video gallery.

Animation 3 – More hygiene products – (ETSA, TSA-UK and Australia versions in English)
Animation 4 – Direct-to-consumer promotion

Hiring of monitoring service for CEN and ISO standards – Update from DTV, Robert Long of ETSA
Europe-wide survey on impact of COVID-19 on linen, uniform and facility services
European collective position paper on impact of COVID-19
NACE – DTV/SME proposal to delete textile from NACE leasing nomenclature – Clarification on justification, pros and cons – DTV
Follow up on ETSA National Associations workshop of May 20 on membership benefits. Next steps: David Stevens (TSA-UK) to draw up a flow-chart discussion document to share on how to approach membership benefits.
Additional projects discussed included a new Swedish study on restaurant textiles, including a comparison with disposables; a new ETSA social media campaign; an online translation of textile care terminology; microplastics, PFOA and silver in textiles; and more.
The next call is scheduled for Aug. 26. At that meeting, a decision will be made on whether to go ahead with a face-to-face meeting in Bern, Switzerland, on Oct. 26-27, considering many national associations have canceled or postponed all face-to-face meetings in 2020.
| | |
| --- | --- |
| Country | Participating Organization |
| Austria | FBÖ – Fachverband der Bekleidungsindustrie Österreichs & FGW Fachverband der Gewerblichen Wäschereien |
| *Belgium | FBT – Fédération Belge de l'Entretien du Textile asbl |
| Czech Republic | APAC – Asociace Prádelen a Čistíren |
| *Denmark | BVT – Branche-foreningen for Vask og Tekstiludlejning |
| *Finland | Tekstiilihuoltoliitto Ry |
| *France | GEIST – Groupement des Entreprises Industrielles de Services Textiles |
| Germany | DTV – Deutscher Textilreinigungsverband |
| *Germany | WIRTEX – Wirtschaftsverband Textil Service e.V. |
| *Italy | ASSOSISTEMA – Associazione Sistema Industriale integrato di beni e Servizi Tessili e Medici Affini |
| *Norway | NRV – Norsk Renseri- & Vaskeriforening |
| *Sweden | ST – Sveriges Tvätteriförbund |
| *Switzerland | VTS – Verband Textilpflege Schweiz |
| *United Kingdom | TSA – Textile Services Association |
| *USA | TRSA – The Association for Linen, Uniform and Facility Services |