Ricci Tours UK Laundries; Confers with Association Leaders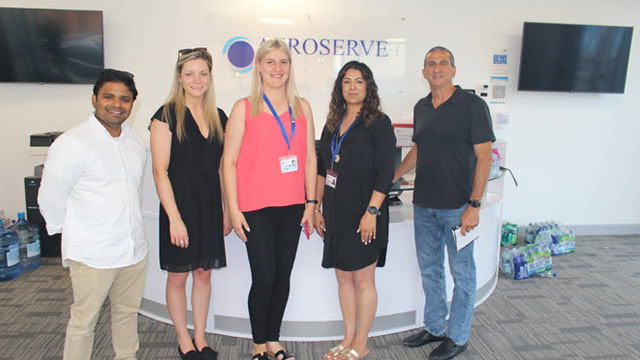 As part of a strategic outreach effort, TRSA President and CEO Joseph Ricci recently traveled to the United Kingdom (UK) for talks with the British Textile Services Association (TSA), plus tours of four highly regarded laundries around London and the northern city of Leeds, England.
"Our strategic focus calls for extending outreach, both online and in person, to exchange information and network with our industry peers," said Ricci, who was in the UK during the week of July 18. "Our relations with our British and European counterparts are especially helpful because they face many of the same labor, supply-chain and energy-cost issues that U.S. companies do. What's more, they've long relied on advances in technology to ensure competitiveness." Textile Services magazine Senior Editor Jack Morgan accompanied Ricci on several meetings, including a July 19 presentation at a TSA gathering in Richmond, about a half hour west of Central London.
Ricci's 30-minute presentation gave attendees an overview of issues that the laundry industry in North America is facing and how TRSA is responding. Examples included TRSA's lobbying effort to encourage the U.S. Centers for Disease Control and Prevention (CDC) to recommend that hospitals stock more reusable isolation gowns and other personal protective equipment (PPE) in order to prevent the critical shortages of disposable PPE that occurred during the COVID-19 pandemic.
Other topics included a discussion of TRSA's Business Pulse Survey, showing how TRSA members are dealing with supply-chain shortages by broadening their supplier bases, stocking up on products and substituting comparable items when necessary to meet surging customer demand, particularly among restaurants and hotels.
Ricci also discussed pending regulatory moves to restrict the presence of "per- and polyfluorinated substances," or "PFAS" additives in laundry effluent. These substances, some 4,500 in all, are used in an array of products, ranging from nonstick surfaces on pans to fire-retardant garments and fluid-resistant gowns that industrial and healthcare laundries provide to customers. These compounds don't break down naturally in the environment. Thus they've earned the sobriquet, "forever chemicals." Some researchers also have linked PFAS substances – even at levels near zero – with various human health problems, such as cancer and thyroid issues. TRSA is working with state and federal officials, as well as local water authorities, to address the PFAS issue in a way that avoids unfairly targeting laundry operators to reduce PFAS levels in wash water.
David Stevens, CEO of the TSA, also touched on the PFAS issue in the UK and Europe, as well as a range of other issues that the TSA is addressing, such as labor shortages and skyrocketing energy costs. One TSA strategy is to organize member-to-member "knowledge networks" in which laundry managers in comparable positions such as general managers, engineers or HR chiefs, confer regularly on common concerns and develop projects aimed at helping them solve problems in their respective areas and, by extension, aid the industry as a whole.
Stevens also gave an overview of the UK commercial laundry market, noting that – as in the United States – residential care or nursing home textiles offer a growth opportunity by encouraging the managers of these facilities to outsource their laundering of flatwork and residents' personal clothing. With 350,000 beds, Stevens said of residential care, "We think it's the biggest growth market we have in the UK."
Both before and after these presentations to TSA members, Ricci and Morgan toured plants in the London area and in Northern England. Stevens and members of his staff facilitated several of these visits, including a tour of Aeroserve, a plant located in Slough, west of London. This operator specializes in servicing airline textiles, such as blankets, napkins and other flatwork, plus cutlery for meals served aboard aircraft. Operations Manager Karolina Waltz led a tour of the plant, which employs more than 200 staff who process 1 million-plus pieces per week, for more than 100 clients, including several major airlines (Click here for details).
Aeroserve executive Pete Johnston said the recovery from COVID forced his team to mobilize rapidly following a series of employee furloughs. "It all came back very quickly," said Johnston, who is group CEO at Synergy LMS, the parent company of Aeroserve. "It put a lot of pressure on the laundry." The plant is currently running two shifts, a total of 130 hours a week, with ample overtime, Johnston said. Energy costs have risen 60% in the past year. Another challenge is recruiting and retaining drivers who can meet the security checks for deliveries going to nearby Heathrow Airport. In the plant itself, Ricci and Morgan saw an array of modern equipment, including a Kannegiesser tunnel washer and several industrial dryers, plus JENSEN finishing equipment and a conveyor system for shuttling goods between departments. However, the nature of preparing these products for airlines – especially the cutlery used in dining packages for first-class passengers – requires extensive handwork. The TRSA visitors watched as scores of employees stood over tables, assembling sets of clean silverware and reusable textiles for distribution to various airlines.
Watch for follow-up coverage of Aeroserve in Textile Services magazine, along with other UK plants, including CLEAN Linens and Uniforms, Slough; Johnson's Hotel Linens in Leeds and Lindstrom's industrial wiper plant in Bedford, England.