'Roaring with Pride': TRSA Next Gens Tour Roscoe Plant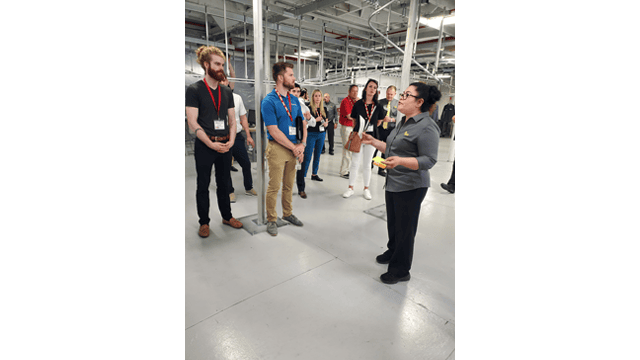 As part of TRSA's Next-Generation Executives Committee meeting on June 15 in Chicago, 20-plus leaders of their companies toured the Roscoe Co. plant on the city's west side. The business is now celebrating its 100th anniversary as a family-owned-and-operated independent industrial laundry.
Julia Buik, a fourth-generation IT team leader at Roscoe, along with her father Jim, the company president, co-led an opening discussion in a meeting room prior to the tour that began at 9 a.m. CDT. Julia, who's also active in the Next-Gen group; and Jim, gave the attendees an overview of the business co-founded in 1921 by Julia's great-grandfather George C. Buik and business partner, John P. O'Connell. The Roscoe leaders took questions about supply-chain and environmental-compliance issues and more before showing attendees a couple of videos prepared for the anniversary that recounted the company's history. Jim noted that the videos had previously aired in April during a centennial party in downtown Chicago that was delayed by the COVID-19 pandemic.
For the plant tour, the Next-Gen attendees split into two groups. Your correspondent joined the tour led by Jim. Before setting out, the two Buiks noted that the plant, located in a 100-year-old building, had undergone significant upgrades in 2008 and 2018. While located in a densely populated area, the plant in North Lawndale has ready access to reliable labor, water and transportation infrastructure. In addition, the company has a longtime commitment to the neighborhood, serving as an economic anchor and contributing to a range of charitable and educational efforts.
While the building itself is vintage, the plant it houses was spotlessly clean and well-kept, including the DAF room, where Buik gave an overview of the company's wastewater-treatment system. The systems there include two above-ground equalization tanks, a shaker screen, and a dissolved-air floatation tank that treats water so that soil separates from water and collects at the top. The waste material is then skimmed off and placed in a plate-and-frame system that squeezes out water. The remaining dry sludge is removed for disposal as non-hazardous laundry waste in an area landfill.
Buik noted how his father Don had pioneered wastewater treatment in the early '70s in response to heightened regulatory scrutiny. The plant has a long record of complying with environmental and safety rules. Other stops on the tour included an automated garment sorting system from Kannegiesser. Goods arrive here from a Leonard Automatics tunnel finisher. Once the radio-frequency identification (RFID) tag is read, the sorting system takes over with double or triple sorts so that each garment – upon passing quality inspections – is dispatched to the proper route for delivery to customers and individual wearers. Julia led this segment of the tour. The red hangers that "marry" a garment's RFID tag to the sorting system zoomed by, ferrying shirts and pants with a "clickety clack" as they headed toward their destination aboard a Roscoe route truck.
The plant offers a wide range of services including industrial uniforms, shop towels, restroom supplies and more. Walking by the finishing area, we watched as a team member finished a cloth roll towel on a winding machine. She was wearing a T-shirt that bore an image of the company's trademark Lion logo with the catchphrase "Roaring with Pride!"
After the two-hour tour, including a lively question-and-answer session at the end, the Next-Gen group boarded a bus for a return to their hotel, the Embassy Suites Chicago Downtown. There, they participated in a 12:30 p.m. to 4 p.m. workshop facilitated by Meagan Johnson, a nationally recognized multigenerational expert. Her well-received talk, titled "'Zap the Gap': Transforming Multigenerational Teams" led attendees through generational signposts that track their workplace expectations. Participants learned steps for creating a generationally robust culture, as well as recruiting techniques for hiring younger employees. One attendee commented that, "The workshop was great. I felt like it was just the right amount of time. It was interactive and light, but also very informative."
After the workshop, the Next-Gen group adjourned to the friendly confines of Wrigley Field for some relaxed networking during a Chicago Cubs' game. While the hometown team fell to the visiting San Diego Padres, a good time was had by all.
Participants in the Next-Gen event earned a continuing education (CE) credit toward certification or recertification to TRSA's Certified Professional Laundry Manager (CPLM) credential. To learn more about TRSA's Next-Gen program, contact TRSA President and CEO Joseph Ricci at jricci@trsa.org. For more information on upcoming Next-Generation Executives Committee activities, click here.