SafeTRSA: Safety Summit Seeks Proactive Incident Prevention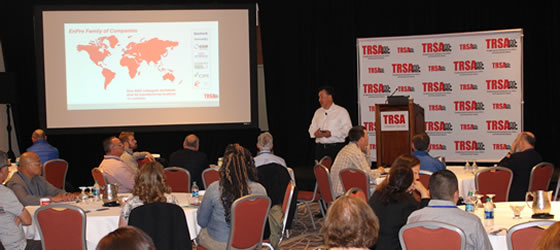 After a successful launch of its Workforce Management Summit the previous day, TRSA followed up with its Sixth Annual Safety Summit, a yearly event that brings together the largest group of linen, uniform and facility services safety professionals dedicated to discussing laundry workplace injury and illness reduction. More than 60 industry executives attended this year's event in Chicago.
Following an update on TRSA Safety Committee projects from the chair of the committee, Suzanne Ormond, risk manager, Alsco Inc., Salt Lake City, the Safety Summit got underway with a look at safety from a company outside of the laundry industry. Keynote speaker Joe Wheatley, corporate director of risk management and EHS affairs at EnPro Industries Inc., a sealings, bearings and engines manufacturer based in Charlotte, NC, shared the corporate philosophy that led EnPro to receive recognition by EHS Today magazine as one of America's safest companies in 2016.
During his speech, Wheatley shared videos on EnPro's safety pledge and its "dual bottom line" philosophy, which promotes safety, excellence and respect in the workplace among its employees. The company works hand in hand with its employees to build and cultivate its safety culture, Wheatley noted. This has had a profound effect on employee engagement. "What people help create, they support," he said.
After Wheatley's address, the Safety Summit continued with concurrent facilitated workshops on fire prevention, low-voltage electrical, fleet safety, lockout/tagout, hazard communication and working in confined spaces.
The Summit closed with a panel discussion featuring several highly respected linen, uniform and facility services industry safety professionals. The panel, which Ormond moderated, included the following participants:
Charlie Edelman, corporate safety director, Unitex
Rick Gerlach, senior director of safety and health, Cintas Corp.
Laura Gracia, safety director, Admiral by Alsco Inc.
Russell Holt, chief compliance officer, Superior Linen Service
John Koduru, director of safety, regulatory and quality, Washing Systems LLC

The interactive panel discussion touched on the following topics:
Getting a high-level safety program started
Ways to get smaller companies involved in safety information and training
Partnering with OSHA on safety initiatives
Communicating safety and training to a multicultural workforce
New OSHA standards to be aware of for safety training and compliance