Safety Summit: Certification, Ergonomics, Hazard Prevention and More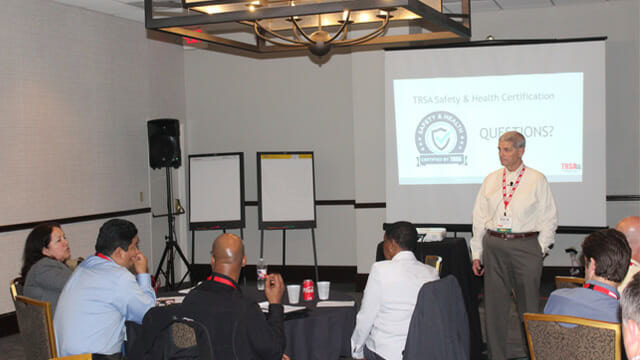 TRSA held its Eighth Annual Safety Summit on April 10 in Dallas. The event featured presentations, breakout sessions and roundtable discussions on topics such as electrical safety, ergonomics, hazard prevention, risk management, workplace violence and more. TRSA's upcoming Safety & Health Certification also was introduced at the event.
The Summit began with an update on the latest Safety Committee initiatives from the committee's Chair Caleb Paige, Faultless Laundry Co., Kansas City, MO. After the update from Paige, the morning's educational sessions got underway with a talk on workplace violence prevention by Isaac Monson and Ray Monteith from HUB International Ltd.'s Risk Services Division.
Following Monson and Monteith's presentation, Rick Gerlach of RG Consulting LLC, who previously spent 14 years leading safety and health initiatives at TRSA operator member Cintas Corp., gave attendees an introduction to TRSA's upcoming Safety & Health Certification. Gerlach walked attendees through the proposed criteria of the certification, which is still being developed. The certification will go above and beyond OSHA regulations by requiring companies to have initiatives like a near-miss program in place, Gerlach noted.
After Gerlach wrapped up, attendees divided into smaller groups for breakout sessions. Topics included:
Risk Assessment Process for Commercial Laundries
How to Build a "Train the Trainer" Program
Prepare, Respond, Recover: Risk Management Essentials for Minimizing Business Interruption
Electrical Safety
The Role of Leadership in Culture Development
Hazard Prevention and Control
In addition to an afternoon general session on ergonomics for plant employees led by Stephen Jenkins, the senior director of safety and health at Cintas, the Safety Summit also featured facilitated roundtables for attendees to discuss safety issues with industry colleagues. The following topics were discussed:
Hazard Communication
TRSA's Safety & Health Certification Program
Disciplining Unsafe Actions and Training Employees
Fleet Safety (Motor Vehicle Accident Investigation)
Getting Your Employees Excited about Workplace Safety
Electrical Safety
Managing an OSHA Inspection
Occupational Safety and Health (Work-Related Injuries and Incident Reporting)
Ergonomics
TRSA's Workforce Management Summit took place the previous day in Dallas. For more information on that event, click here.