Sales & Service Summit to Identify Market Frontiers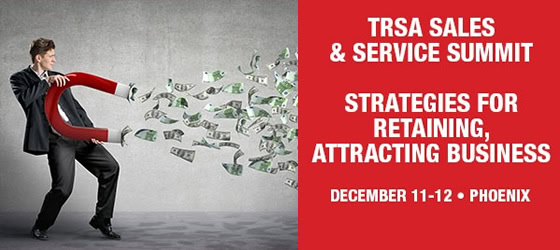 Register for the Sales & Service Summit
The marketing instructor team from TRSA's Executive Management Institute (EMI) will tackle a related educational challenge at next month's Sales & Service Summit near Phoenix: portraying the landscape of markets and products that will power the textile service industry's future.
In "Emerging Markets/Selling New Services," Barbara Herman and Steve Kallenbach will challenge operators to recognize that even though their core business is their most profitable, they can still earn healthy margins by pursuing ancillary products and services. The pair will offer ideas for maintaining or improving margins through such diversification.
Both hail from the industry's textile product supply sector and serve on TRSA's Marketing & PR Committee. Herman is the national industrial laundry manager for SanMar Corp., Issaquah, WA. Charged with helping operators grow laundry revenues through garment sales to current customers, she draws on her more than 20 years in accounting, operations and sales management in the industry.
Kallenbach, the TRSA committee vice chair, is market solutions director for American Dawn (ADI), Los Angeles. With more than 30 years in laundry and image apparel, he supports ADI customers with training and marketing programs on subjects ranging from customer service to value-added selling.
The Summit, themed "Strategies for Retaining, Attracting Business," will take place at the Sheraton Wild Horse Pass Resort & Spa, Chandler, AZ, near Phoenix. The program begins with a reception in the early evening of Wednesday, Dec. 11, with a full day of events Dec. 12.
Attendees should register with TRSA for the event and secure hotel rooms at the host Sheraton Wild Horse Pass Resort & Spa, 800.228.3000, by Nov. 18 to receive the TRSA discount rate.
Much of the Summit agenda will be a half-day workshop featuring John Jantsch, author, Duct Tape Marketing. Jantsch's presentation, "How to Build a Referral Engine," will advise on processes and campaigns to take greater advantage of word-of-mouth about your company. Jantsch teaches his audiences to make a greater impact on referrals by listening to and communicating more regularly with customers. He espouses taking the time to help them develop better networking skills to improve their business and yours.
Also highlighting the agenda is a panel of industry executives who will share ideas to help plant- and depot-based management build cooperation between their sales and service operations to maximize effectiveness and profitability. Panelists will be:
Jim Divers, Alsco Inc., Salt Lake City
Tim Topornicki, Topper Linen, Toronto
Josh Wildman, Wildman Business Group, Warsaw, IN

The market diversification presentation will be concurrent with another. This talk is during one of three sessions of two breakouts occurring at once, requiring attending companies to bring at least two individuals to the Summit to cover them all. The other five concurrent topics include:
Unconventional Truths of Sales Productivity
Changing Culture for More Effective Selling on the Route
Customer Retention: Getting Feedback from the Right Person(s)
Emerging Markets/Selling New Services
Leveraging Social Media/Search Engine Optimization (SEO)
Route Optimization