Schwalb Touts TRSA Initiatives at EXPOdetergo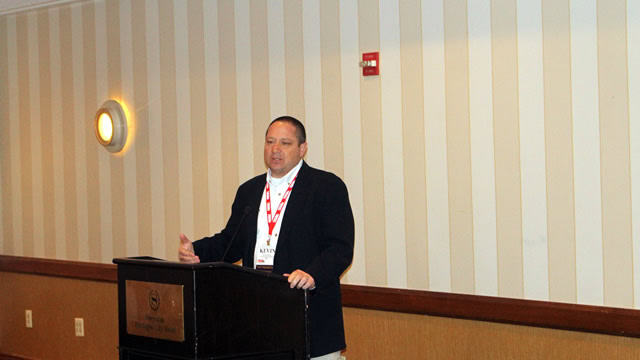 TRSA Vice President of Government Relations Kevin Schwalb recently gave an update to the international linen, uniform and facility services community on initiatives TRSA is working on to benefit the industry worldwide. Schwalb's speech was part of the European Textile Services Association's (ETSA) International Information Session at EXPOdetergo 2018 in Milan.
Schwalb kicked off his address with an overview of TRSA's mission, as well as a look at the linen, uniform and facility services market in the United States. TRSA research indicates that this $20-billion market has the potential to be a $34-billion market with an uptick in outsourcing. The largest opportunities appear to be in restroom hygiene and chemicals, as well as direct sales of garments and uniforms, Schwalb said.
After giving a detailed overview of the U.S. market, Schwalb outlined the ways TRSA aids its members through government relations, certifications, outreach, best practices and standards, professional development and education, industry news and trends, as well as national and international alliances. Highlights included:
In addition to Schwalb's speech on behalf of TRSA, the following topics were discussed during the meeting:
Sustainability, Quality, Innovation and Development of the Italian Laundry Market, Marco Marchetti, president, Assosistema (Italian National Association)
Raising our Profile and Supporting our Members, Philip Wright, CEO, TSA (UK National Association)
Current Projects for Textile Services in Germany, Daniel Dalkowski, head of the Berlin office of communications, DTV; and Andreas Marek, managing director, Wirtex (German National Associations)
OPL vs. Textile Service, Anna Bernstad Saraiva Schoft, AF Infrastructure AB, Swedish National Association
Selected Recent Projects for Textile Services in Australia, Anthony Kingsley, member of the board, Laundry Association of Australia
Recent Projects, Robert Long, secretary general, ETSA
TRSA also hosted a booth at EXPOdetergo International, held from Oct. 19-22 in Milan.