Sen. Cruz Tours Division; Touts TRSA Advocacy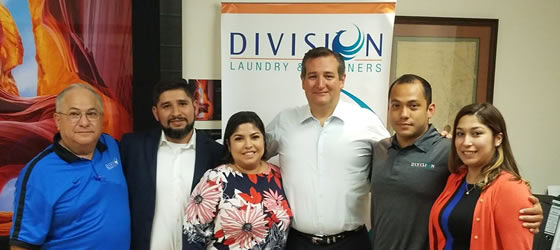 Division family leadership team with Sen. Ted Cruz: (l/r) Patrick R. Garcia, Adam and Patricia Luna; Sen. Cruz (R-TX); and Patrick A. and Theresa Garcia.
Sen. Ted Cruz (R-TX) recently visited Division Laundry in San Antonio to see a commercial laundry plant in action and meet some of their employees. TRSA arranged the visit to introduce Sen. Cruz to the linen, uniform and facility services industry.
The tour kicked off with a television interview between the senator and KABB FOX29 reporter Jessica Headley, who simulcast the interview on Facebook Live chatting with Theresa Garcia about Division and the industry.
During the tour, Sen. Cruz saw how laundry is sorted, washed, dried and finished, he even tried his hand at feeding sheets into an ironer. After the tour, Cruz held an employee town hall meeting – which was also carried on Facebook Live – where he discussed the climate in Washington, DC, upcoming efforts to reform the tax code and the importance of policy involvement.
During the visit, Patrick Garcia, President of Division Laundry, discussed such topics as small business regulatory reform, workforce shortage issues and healthcare concerns with the senator.
Cruz emphasized the importance of the industry getting involved in the public policy process and recognized TRSA efforts. "As the only organization representing the linen, uniform and facility services industry, TRSA's efforts to reach out to policy makers is highly effective and important," said Cruz of the association.
Sen. Cruz was impressed with the facility, and increased his knowledge of the linen, uniform and facility services industry. "We at Division appreciate Senator Cruz's visit," Patrick Garcia said. "TRSA did a great job setting the event up."
The tour of Division Laundry and visit by Sen. Cruz is another great example of the productive relationships that TRSA cultivates with Members of Congress on behalf of the industry.