Shutdown Relief: Alsco Gift Helps Keep Utah Parks Open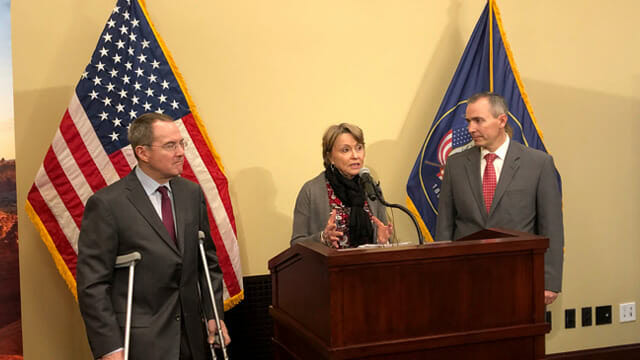 Amid the longest partial shutdown of the federal government in history (closed since Dec. 22, 2018, with plans to temporarily reopen announced on Jan. 25), Alsco Inc. recently stepped up to assist with a $100,000 donation to not-for-profit groups working to keep several of Utah's national parks open to the public.
The donation from Alsco, based in Salt Lake City, will go to underwrite expanded visitor and custodial services at Zion, Bryce and Arches national parks, according to a news release from the Utah State Senate. "By expanding on the skeleton services that have been provided to date, Alsco's investment creates a welcoming and pristine experience for national park visitors," the release said. "Expanded assistance is needed as the parks go into their busy season."
Since the federal shutdown began last month, several public and nonprofit partners have worked to help pay the costs of keeping skeleton crews at the parks, the release said. Partners include three national parks foundations, the city of St. George, Washington County and the Utah Office of Tourism. Alsco is the first private-sector partner to underwrite the parks in Utah, and possibly the only business nationwide that's underwriting operations at three national parks.
The idea for the Alsco donation emerged after Co-CEO Bob Steiner read about the efforts of the foundations and area governmental organizations that were lending a hand to support the national parks during the shutdown.
"I was inspired when I heard about how our state is stepping up to protect these natural resources," Steiner said. "The senior management at Alsco discussed the idea and we decided we wanted to do our part. Alsco is a Utah-based company whose employees are inspired by local patriotism and pride in Utah's natural treasures. Our contribution is intended to help out visitors who have planned their vacations to these beautiful parks and to also ensure the businesses and residents that rely on tourism in these areas are supported."
Alsco worked with state Sen Dan McCay (R) and the Utah Office of Tourism to define a plan that would best protect the visitor experience and natural environment. The public-private partnership was a reasonable next step in the shutdown, McCay said.
"Days like this make me proud to be a Utahn," McCay said. "We are taking a different path than most other states by bringing public and private partners together to solve a hard problem – a problem that is big enough to see and small enough to solve. Our parks will continue to be welcoming to visitors through Alsco's contribution."
Click here for details.