Spirit of '76 – U.S. Linen and Uniform Marks Milestone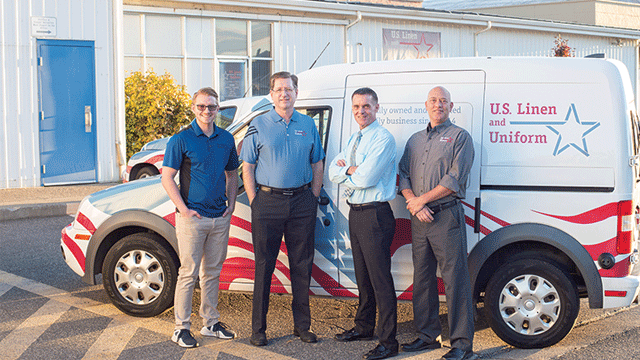 When your company has been in business for 76 years, chances are you're doing quite a few things right. During good economic times, you can expand and thrive, and in the rough times (like now) you adapt and become more flexible to survive.
With the COVID-19 pandemic hindering almost all business, U.S. Linen and Uniform in Richland, WA, is finding ways to adapt, according to a recent article in the Tri-Cities Area Journal of Business, a publication based in Kennewick, WA. "We're in there delivering every week to businesses," said Rick Snyder, owner and general manager of the family-owned business. "We've just got to have good communication with our customers. We are selling more janitorial supplies. On a lot of stuff, we just have to wait and get with the customer; see what they want."
Snyder's grandfather, Harvey Stoller, started the business. It originally was known as the Richland Laundry and Dry Cleaners Inc., with its first day of business on Aug. 14, 1944. Last year, the company marked its 75th anniversary. Today, Stoller's company is owned and managed by his family—daughter Pat Snyder and her husband Dan, plus grandchildren Debi Caldwell and Rick Snyder, and a great-grandson, Drew Snyder. "We've had five generations in the business," Rick Snyder said.
The company services the automotive, hospitality, food and food manufacturing, service and medical industries. U.S. Linen and Uniform has six distribution warehouses throughout the Northwest. Besides its home base of Richland, the company operates locations in Yakima, Moses Lake, Spokane, WA; plus Pendleton and Portland, OR.
Like other laundry operators nationwide, the pandemic has had a profound economic impact on U.S. Linen and Uniform, Snyder said. "We bought a plant in Portland and we were building it up," he said. "We've had to shut it down, and 50 of our 175 employees were laid off." Other elements of the business are hurting as well. "All table linen business is pretty much gone," Snyder said. "The bar towel and aprons business is down about 50%."
In addition, U.S. Linen and Uniform has dropped its policy of not handling customer-owned goods, such as uniforms and lab coats. Normally, U.S. Linen and Uniform's radio frequency identification (RFID) system tracks each garment because each piece has an RFID chip in it. With its Star Tracking System, U.S. Linen and Uniform can always find the garment. It does so throughout the process of cleaning, sorting, inspecting and mending (if needed), so the customer's order is always correct. It also has an app for quicker services.
By cleaning other customers' uniforms not rented from U.S. Linen, there's a chance something could get misplaced since it doesn't have the tracking technology. "We didn't want to process a company's coats because it's hard to keep track without the chips," Snyder said. But Snyder knew his company had to shift gears to keep the business going. It's also looking at other potential sources for revenue, such as supplying cleaning supplies to industries that are paying more attention to the surfaces people touch.
To read the full article, click here.