St. Louis Boiler Explosion Cases Settle for Over $47 Million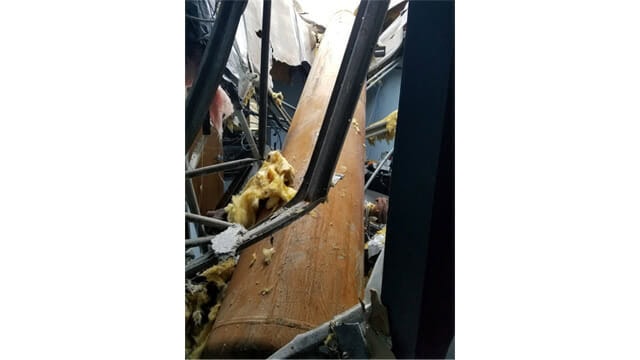 More than two years after a massive boiler explosion occurred in the historic St. Louis neighborhood of Soulard, the parties have announced a settlement of all pending lawsuits, with the total amount coming to slightly more than $47 million, according to a news release from The Simon Law Firm P.C., one of several firms representing plaintiffs in the case.
On April 3, 2017, a 3,000-pound, pressurized steam container violently exploded at the Loy-Lange Box Co. facility on Russell Avenue. The container flew 500 feet through the air before crash landing into the Faultless Linen facility. One person was killed and two were injured at Loy-Lange, while three more were killed and another injured at Faultless Linen.
Lawsuits filed by those injured and the families of those killed were consolidated for an Aug. 2019 trial before Judge Michael Noble in St. Louis City, Case NO. 1722-CC00994. A two-day mediation was conducted by retired Judge Glenn Norton on June 6 and 7. During mediation, the plaintiffs reached settlements with Kickham Boiler and Engineering, Chicago Boiler Co., Aquacomp Water Treatment Services, Loy-Lange and Arise Inc. Following mediation, the plaintiffs also settled with Clayton Industries.
The Simon Law Firm took a lead in this litigation, representing the plaintiffs in two of the seven cases, including one wrongful death case and one injury case. Each of the defendants paid the following:
Clayton Industries – $21 Million
Arise Inc. – $17.5 Million
Loy-Lange – $4 Million
Aquacomp Water Treatment Services – $2 Million
Chicago Boiler Co. – $2 Million
Kickham Boiler and Engineering – $728K
To read the news releases, click here and here. For previous coverage of the boiler explosion incident in Textile Services Weekly, click the following links:
Two in Laundry Office Killed by Neighboring Blast
Boiler Explosion Claims a Fourth Victim
Faultless Office Off-Limits – Statement Issued