Staffing a Hot Topic at TRSA's Healthcare Roundtable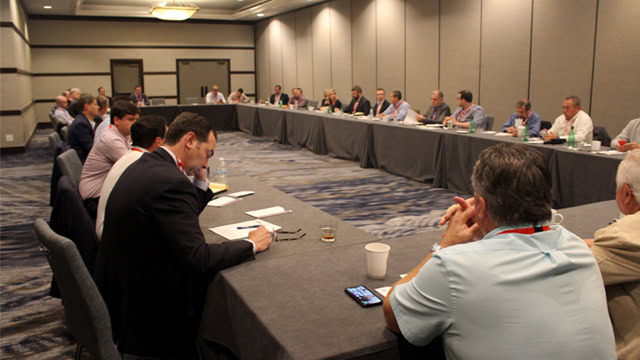 A briskly growing economy poses a dilemma for healthcare laundries – with competition for hourly and management employees more intense than at any time in recent memory, operators are having to hustle to find ways to keep their plants fully staffed and operating at high rates of efficiency and quality.
With an agenda that touched on a range of issues, attendees at TRSA's Healthcare CEO's/Executive Roundtable on Nov. 19 in San Diego included a discussion of ideas on how get and retain employees. The Roundtable, held the day before the official start of TRSA's 8th Annual Healthcare Conference, drew more than 35 CEOs and senior executives representing linen, uniform and facility services companies responsible for processing nearly 90% of the healthcare linens, scrubs, gowns and other reusable textiles.
The Roundtable, which drew several next-generation leaders of family-owned business, had the largest turnout in four-year history of this event. TRSA President and CEO Joseph Ricci facilitated a highly interactive discussion on industry-specific concerns such as processing hygienically clean healthcare textiles and infection control; consolidation and capacity and reliability concerns, as well as broad industry issues including sustainability, automation and labor shortages.
"The No. 1 topic was labor and the best practices of how to attract labor," said David Stern, CEO Paris Cos. during a brief wrap-up session at the end of the second day of TRSA's Healthcare conference that ran from Nov. 19-21. "I know for my own company it has become a critical issue. It's harder to get people now to work than it is to get customers."
The executives at the Roundtable meeting reviewed a number of ideas that various companies are pursuing to address the labor shortage. The most common strategy is to pursue labor in unconventional areas, such as special programs for prisoners or people with disabilities. One executive cited a successful partnership with "Best Buddies" a program that matches people with a range of intellectual and development challenges to paid jobs. She claimed a 92% retention rate and a commitment to continuing this strategy. Other companies have borrowed a page from TRSA's internship program and either participated in that initiative or developed their own internship programs with the goal of eventually hiring staff members, such as engineers.
Several operators said they are having success with programs organized by area authorities to help local jail inmates' transition from incarceration to paid employment. Stern mentioned his company's work with a local jail in his wrap-up remarks. "I was against it when we first started doing it, but it's worked out well," he said. "They are so appreciative of a job. They work hard; we retain about 40% of them." The presence of these nonviolent offenders in the plant has not had any negative impact on the company's culture, he added.
TRSA President and CEO Joseph Ricci added that TRSA is developing an outreach program that would encourage jail inmates who work in their prison laundries to train to qualify for Certified Professional Laundry Manager (CPLM) status. This could prepare them to transition to laundry industry careers by helping them develop skills and professionalism.
Another alternative for dealing with the labor shortage is to "automate, automate, automate," as one executive put it. But several attendees who've explored automation options have found that the technology – while promising – isn't yet delivering the ROI that would justify widespread implementation. A related alternative is process innovations, such as bagging washcloths like bar mops instead of folding them, to save labor. Other topics addressed during the Roundtable included:
Healthcare customer's hygiene concerns: Several operators said Hygienically Clean certification helps differentiate their companies from competitors and emphasizes their concern for safety. One executive said hospitals in his area are now demanding tests for mold in light of recent cases of mold incidents causing serious health issues with severely ill patients. "Get ready for it," he warned. Plant tours are often crucial to building customer awareness of the laundry's commitment to hygiene, attendees said.
Healthcare Laundry and Provider Consolidation: Concerns about laundry companies lacking the capacity to meet customer needs could spur hospitals to launch co-ops, or take other steps as one major provider recently did by partnering with a for-profit group focused on providing "second-chance" opportunities for ex-offenders.
Sustainability: This issue weighs heavily in some regions, but not so much in others. One operator based in the Northwest said she's sold customers based on the fact that she has TRSA's Clean Green Certification. Other operators said that while hospitals typically have sustainability goals, it's not as critical a concern as other considerations, particularly controlling costs.
Linen Utilization: A discussion of disposing of ragged out items centered on alternatives when recycling programs no longer accept certain items. Donating goods to homeless shelters, overseas aid groups or animal welfare organizations (the latter groups particularly prize reusable bed pads) offer other outlets for responsibly disposing of these goods.
Internal and External Outreach: A group discussion centered on searching other industries for technology innovations in automation, artificial intelligence and materials handling. Establishing working groups of operators and vendor/suppliers to develop standard for textiles, equipment, etc. Access to resources to generate awareness and educate customers, such as TRSA's Six C's video and Linen Loss animations.
Attendees at the Healthcare CEOs/Executives Roundtable included:
Greg Anderson, Executive Chairman, Emerald Textiles
Lascelle Arnold, Managing Director, Belize Dry Cleaners
Bryan Bartsch, President, Ecotex Healthcare Linen Service
Randy Bartsch, CEO, Ecotex Healthcare Linen Service
Jeff Berstein, CEO ImageFIRST Healthcare Laundry Specialists
Richard Bott, CEO Emerald Textiles
Bob Brill, Vice President of Operations,, American Textile Maintenance
Bruce Feldman, Vice President, Economy Linen & Towel Service Inc.
Jason Feldman, Economy Linen & Towel Service Inc.
Karl Fillip II, COO, NOVO Health Services, LLC
Howard Goldberg, President, Supreme Laundry & Cleaners Inc.
Brad Goldstrom, President/COO, Ameritex Services
Evan Hall, Vice President of Operations, Northwest Healthcare Linen
Jessy Jassny, Director of Sales & Service, MediCleanse Linen Service
Aaron Jett, Infection Prevention/Clinical Solutions Manager, Cintas Corp.
Rick Kislia, Retired COO, Crescent Laundry
Christian Luneburg, President, Florida Linen Services LLC
Tim Montague, Owner, Foussard Montague Associates
Chad Poeppelmeier, Vice President of Healthcare, Cintas Corp.
Bob Raphael, President, MediCleanse Medical Linen Service
Liz Remillong, Vice President, Strategic Alliance, Crothall Healthcare
Ron Seaman, COO, Florida Linen Service
Jamie Shaddix, CEO Angelica
Brad Shames, American Textile Maintenance
Greg Shames, Director of Operations, Medico Healthcare Linen Service
Matthew Shapiro, Owner, Walker Medical Linen Service
David Shapiro, Owner, Walker Towel & Uniform
John Shoemaker, Vice President, General Linen & Uniform Service
David Stern, President & CEO, Paris Cos.
Christine Tun, Assistant Managing Director, Belize Dry Cleaners
Kelsey Van Miert, Vice President of Customer Relations, Northwest Health Care Linen
The Roundtable was sponsored by Stephens Inc., a full-service middle-market investment bank founded in 1933. Like many laundry companies, the bank is privately held. A national firm, Stephens Inc. employs 1,200 people and has offices from San Francisco to New York and two in Europe. Stephens Inc. is very active in the healthcare linen and laundry space. In 2018, it advised ImageFIRST on its transaction with Calera Capital. Other transactions in this area are now in the works. Simon Bagnall, manager director, Healthcare Services Investment Banking, for Stephens Inc. represented the company at the Roundtable.