State of the Industry: Ricci Appears on Goldman Sachs Webcast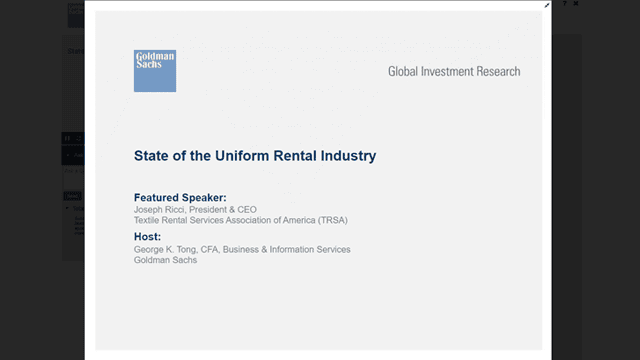 TRSA President & CEO Joseph Ricci recently appeared on a Goldman Sachs webcast to discuss key trends in the linen, uniform and facility services industry.
Ricci appeared on the June 17 webcast with George Tong, a business and information services executive at Goldman Sachs. Topics discussed on the call included:
The impact of the COVID-19 pandemic on uniform rentals and how it is recovering from the downturn.
Trends such as automation and digitization, and how they have transformed the industry.
Products that were in demand during the COVID crisis, such as hand sanitizer, healthcare scrubs and more, and whether that demand will continue as the pandemic subsides.
Discussing the industry's ongoing recovery from the COVID crisis, Ricci noted that, "The industry's focus on customer service and route-based distribution allowed it to quickly introduce new products and services that have expanded its customer base to non-programmers based on providing reusable and disposable personal protective equipment (PPE), sanitizing stations and cleaning products. Customers have recognized an increased value of the essential products and services our industry offers and their relationships with their linen, uniform and facility services partners."
Ricci wrapped up the call with a discussion of the industry's commitment to sustainability and its growth prospects moving forward. Following his remarks, attendees had an opportunity to ask Ricci questions in a facilitated question-and-answer session.
Click here to listen to a recording of the broadcast.