'Stay in the Know': TS Weekly Survey Results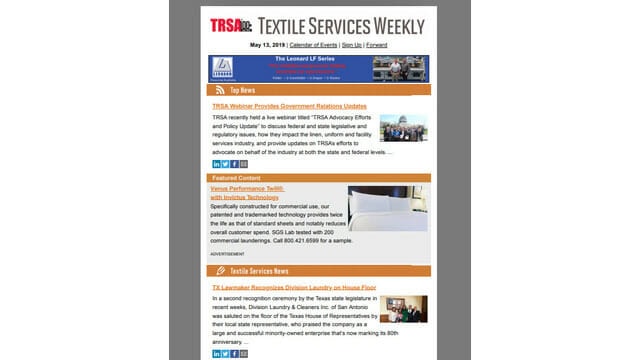 Textile Services Weekly recently conducted an AdImpact™ survey of its readership to get feedback on its e-newsletter content and advertising. The survey was conducted by Signet Research Inc. for the May 13 and May 20 editions of the newsletter.
Respondents to the survey included:
Owner/President/CEO/COO – 25%
Vice President/General Manager – 17%
Plant Manager/Production Manager/Director of Operations – 32%
Director of Marketing/Director of Sales/Sales Manager – 20%
Seventy-six percent of respondents took one or more of the following actions as a result of advertisements and/or articles in Textile Services Weekly: bought products or services advertised, recommended/specified products, discussed an ad and/or article with someone else in the company, requested additional information from a company, sales representative or distributor, and/or visited an advertiser's website. Seventy-six percent of respondents indicated that their respect for Textile Services Weekly could positively influence their opinion of advertisements appearing in the newsletter.
Comments from readers included:
"It is the leading media source for industry news, products and services so it's extremely useful."
"It's very useful in seeing what's going on in the industry – whether it's from vendors or competitors. It's a great way to stay in the know."
"Good source for education, information on latest trends, keeping up with government issues and learning about what industry peers are doing."
"It's full of useful information and timed perfectly each week. I can read it first thing Monday and have conversations about it at our weekly Monday meetings."
AdImpact scores were used to measure the impact of each individual advertisement in the newsletter. Signet Research calculated this score by adding the interest (the percentage of respondents who were prompted to read the ad) and call-for-action (the percentage of respondents who were inspired to take action) percentages obtained from the survey results. The top three AdImpact scores were:
Leonard Automatics – 103
Lavatec – 91
Kemco – 85
Survey participants were entered into a random drawing to win one of five $100 Amazon gift cards. Winners included:
Ernest Addington, Halifax Linen Service
Patrick Jovanovic, R.W. Martin
Ty Smith, Ameritex Services
Bryan Storm, Nixon Medical
Shane Teel, Nixon Medical
"The survey is vital as it provides critical feedback on both the editorial content and advertising in Textile Services Weekly," said Jason Risley, TRSA's senior editor, digital/new media. "Input from our readers will help improve future editions of the newsletter and ensure that it remains the No. 1 source of news for executives in the linen, uniform and facility services industry."
For more information about the survey, contact Risley at jrisley@trsa.org.