Straight from the 'Hart' – Why Mountville Has Grown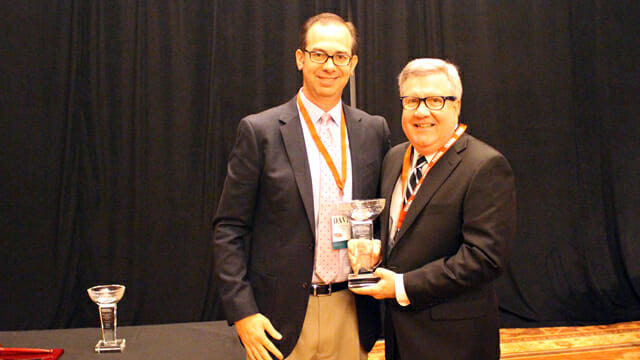 David Hart, CEO of Mountville Mills Inc. and the winner of the 2018 Maglin/Biggie Lifetime Achievement Award by a TRSA associate member, offered a mix of levity and life lessons during remarks he gave at the Oct. 17 Awards Dinner at TRSA's 105th Annual Conference & Exchange at The Meritage Resort & Spa in Napa, CA.
In a brief address to more than 200 attendees gathered at the Awards Dinner, Hart emphasized how grateful he is to family, friends and colleagues who helped him and his mat-manufacturing company over many years to achieve success.
Perhaps most prominent among the 'thank-yous' that he delivered was the one he dedicated to his parents, Emmett and Nancy Hart, who founded Mountville Mills as a startup in the early 1960s. They taught their son David, both through words and their example, about the importance of placing values at the forefront of one's business strategy. "When I talk about my dad and tell you what a good man he was, how he taught us hard work, he taught us ethics and commitment. You never give up." Like every startup, the Mountville Mills "family" faced numerous challenges in the early days. "They started the business," Hart said. "They worked incredibly hard. They sacrificed like none other and gave us the opportunity to do what we do today. I'm eternally grateful for that. Dad devoted his whole life to this business. Day and night. And mom kept the family together. She's the glue and she's absolutely the wisest person that I know today."
Hart entered the business full-time after completing a law degree at the University of Georgia. He credited a number of industry people with helping him learn the ropes and gain the confidence that he needed to grow the business. Key mentors included the late Norvin Pellerin, a co-founder of Pellerin Milnor Corp., along with his son Jim Pellerin, both of whom have also received the Maglin/Biggie Lifetime Achievement Award. Hart described how Norvin helped him learn the ins and outs of laundry machinery. "When I was a kid right out of school, I came to the association membership, and I didn't know anybody," Hart said. "But Norvin allowed me to sit with him. He was a senior statesman. He knew everything there was to know about laundry equipment, and he let this kid who didn't know anything or anybody, sit by him and he taught me about the equipment. And I thought, 'Well if I know more about the equipment, I'll know how to sell mats better.' And he helped me along the way."
Other key mentors that Hart cited included Tom Hunt, who traveled with Hart across the Southwest U.S. in the pre-cell phone era, when communicating with customers meant looking for payphones and reading road maps to arrange meetings. Hart shared plenty of laughs with Hunt, whom he described as "one of the funniest people on the earth. But he also taught Hart the importance of responding quickly to customers. Not tomorrow, but "right then." Another lesson he imparted was if you can't give the customer exactly what they want, give them an alternative. "He said 'David, don't ever offer a customer a choice between something and nothing. He said offer them something … or something else.' And I learned that lesson."
Another essential figure was Paul Kelemen, a man who always made allowances for people, he always saw the best in them, Hart said. Kelemen's lesson formed the roots of the Mountville dress code of dark suits, striped ties and laced-up shoes. Formal business attire communicated respect for customers, Kelemen said. The lesson has stuck with Mountville and continues to this day.
Hart also cited Mac Wright, a laundry expert who emphasized the importance of quality customer service. "Mac could take care of customers," Hart said. "When he walked into a business, you would have thought he was running for mayor or something. He took care of them like no other."
Hart also thanked his staff and customers for helping Mountville expand over 50-plus years. "They stood by me when we gave great service," Hart said of his customers. "But they stood by even when we didn't. When we let the customer down. They stood by us and they still do today. They're the heart of the business."
As for the Mountville team, Hart credited them with emulating the commitment to hard work, honesty and determination that Emmett and Nancy taught him. "They get up every day and they work hard," Hart said. "They're certainly not perfect, but they live by a standard of 'Do the right thing. Do what's best for the customer and drive improvements and innovation.' If we stand by that corporate culture, we're going to be real successful in business and in life."
Near the end of his talk, Hart also thanked his Senior Vice President and longtime business associate, David Watterson, for his service. They were college friends in Georgia, and he quipped amid laughter that it was an "absolute miracle" that they graduated. "It was so easy back then … If you just slowed down in Athens, Georgia … we didn't go to Athens but that's another story … If you slowed down in Athens, GA, in the '70s with your window open, they would throw a diploma in. Colleges were pretty easy back then." The room erupted in laughter at this comment, but Hart went on to credit Watterson with playing a critical role in Mountville's growth, including the development of a training program for executives. This effort to enhance recruiting included the appointment of Tyler Fowler, who is now president of the company's M+A Matting division. Fowler began work with Mountville as a college intern after a lengthy recruitment effort stretching back to middle school.
Yet another ingredient that Hart credited as a contributor to his company's success was TRSA and its representation of the industry. TRSA is particularly effective, given its size relative to better-funded groups, such as those representing bankers and attorneys, Hart said.
Finally, Hart credited his children and sweetheart Julie for their support. The crowd erupted with applause and gave Hart a standing ovation when he thanked his family, saying, "You guys mean the world to me and I love you."
Watch for follow-up coverage in next week's Textile Services Weekly of TRSA's Laundry Operator Lifetime Achievement Award Winner Steve Larson of Alsco Inc. and his remarks to the Annual Conference attendees.