Summit Reflects Everyday HR/Safety Shared Challenges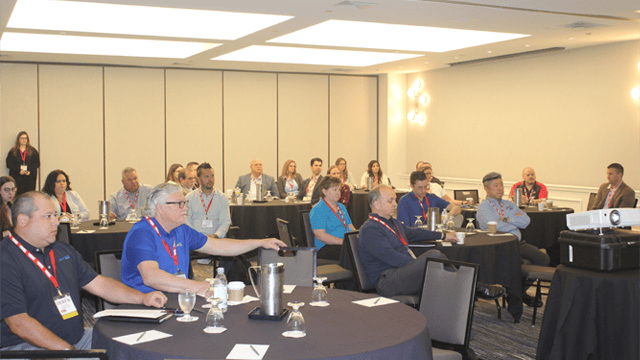 Specialists in either safety/health or human resources, or generalists responsible for both, found abundant common ground May 17 at TRSA's HR, Health & Safety Summit in Chicago. All benefited from practical, hands-on analyses of trends, issues and techniques they could use to improve their corporate cultures. They went home with numerous ideas – thanks to presentations specific to the industry or covering best practices from other industries, as well as peer-to-peer sharing.
It started with Summit keynoter Michael Halter, Haylor Freyer & Coon, Syracuse, NY, a TRSA Business Solutions partner, describing the industry's need to contend with cybersecurity breaches and $10-million-plus auto/truck accident settlements as "the Wild West" of U.S. safety/HR concerns.
Demonstrating and discussing benefits of on-board cameras, he noted these "nuclear verdicts" are best avoided when video evidence proves your driver isn't at fault. At the same time, strong hiring and orientation practices are the best preventive medicine. He advised on how to build your defenses through qualifying drivers; coaching, training and monitoring them; setting policies (such as drug and alcohol testing); and following key rules for post-accident response.
Vulnerability to cyber breaches is at an all-time high. The question is not whether you will be hacked, but how long it will take you to recover. Halter profiled the demographics of today's hackers, described the most common types of cyberattacks/hacks the industry faces and displayed a ransomware message. He detailed steps that must be taken once you are hacked, describing the experiences of hack victims, how to use insurance proactively and how to find out what data has been compromised.
Another general session for both HR and safety and health professionals covered how the two functions unite to manage worker's compensation. Presenters were Melanie Shong Helm, corporate HR director, Crown Health Care Laundry Services, and Michelle McNeil, safety director, Healthcare Linen Services Group. They characterized this joint function as "wheelhouses and merging traffic."
They noted that each of these departments has its own wheelhouse consisting of a few fundamental functions. Then they explained how, when a worker's comp event occurs, personnel in each department leave their wheelhouses and cooperate for a successful outcome for the employee and company. This affects safety investigation, report filing, evidence compilation, employee health screening and communication with insurance carriers.
They explained how they achieve the goals of the merged effort, including getting employees back to work, assigning them light duty, building their personal accountability for performance, managing their discipline, and ensuring proper medical and physical therapy appointments.
Human Resources Sessions
Kathleen Quinn Votaw, founder and CEO, TalenTrust, delivered two breakout sessions specifically for HR professionals in linen, uniform and facility services. The first enabled participants to recognize why candidates choose their companies. This helps locate more individuals who would be attracted to their workplaces. Her second session gave advice on onboarding new employees and retaining them through more effective engagement.
Votaw also spoke at the TRSA Production Summit in Chicago the following day. Look for details on her philosophies in TRSA's coverage of that event.
Detailing how their companies achieved diversity, equity and inclusion (DEI) success were Molly Ruiz, HR generalist, ImageFirst, and Karla Fitzgerald, safety & risk control VP, Aramark Uniform Services (AUS).
Fitzgerald credited Aramark Corp. CEO John Zillmer for ensuring diversity in staffing the company's highest ranks: the CFO, DEI VP and chief diversity and sustainability officer. Kim Scott, AUS president and CEO, has reflected the same philosophy in hiring. The company has received numerous accolades for DEI and this has led to greater overall recognition, such as being named to Fortune's 2022 list of Most Admired Companies.
Ethnicity remains a major component of DEI, but it's more. At Aramark, efforts are increasing to relate to gender identity and expression, and Fitzgerald's interest in employing individuals with mental and physical challenges is being kindled.
Ruiz explained the help ImageFIRST received from a consulting agency to get formed and establish goals when their DEI program begun in 2020. She discussed communications techniques to engage associates in the concept. This included creating portrayals of employees as cartoon "superheroes" and publishing them in job postings, videos, flyers and emails, and on the company website.
She covered the genesis of the company's new DEI board and how its responsibilities would be assigned. Impacts have included companywide recognition of national DEI-related events and individual locations' celebrations of local festive days. Also covered in Ruiz' presentation were current projects to ensure leadership commitment, build and maintain a diverse workforce, and continue to engage associates.
Safety Sessions
Lee Huston, Western territory manager for Milliken's Laundry Service Team, guided attendees in recognizing the most common mishaps that lead to injuries and what is typically spent per associate for preventing these – as opposed to the cost of contending with such incidents once they occur. He called on companies to calculate the "true cost of hurting people."
Huston would also explain how world-class companies strive to make safety a value and virtue. The best such efforts feature a safety steering committee that drives the process. He explained who in a company's management hierarchy usually serves on this committee and the panel's role in accident investigation. He did the same for subcommittees, noting their importance to associate awareness and involvement.
His guidance on communication included questions to ask about any safety-related process, how associates can be more effective in giving and receiving feedback, how to document incidents (incident cards) and what a good communication board should post.
Sharing his experience getting personally injured from failure to lock out a machine when he worked in another industry, Charlie Edelman, corporate safety director, Unitex Healthcare Laundry Services, expressed disbelief that lockout/tagout (LOTO) remains among the Top 10 most-cited OSHA violations.
He showed animated videos of how LOTO goes wrong. "The issue is training," he noted, urging the audience to refresh such training more often than in the past. He promoted TRSA's video on the subject and described his personal role in a multiplant operation for LOTO training; how he interacts with individual employees to ensure they truthfully portray their adherence or lack thereof to the procedures.
Edelman recounted an incident several years ago in which a laundry maintenance technician had locked out properly for preventive maintenance on a small-piece folder. But when he found a failed cross-fold blade bumper in the process, he addressed it without performing the LOTO for that job. He left the power cabinet door open to pull himself out. In doing so, he accidentally grabbed the machine's transformer. The result was six weeks in a hospital burn unit and possible health ramifications today.
The laundry had plenty of documentation to show its dedication to LOTO training, however, and won its OSHA appeal of the fine for the incident.
Safety is a game with no end, a race with no finish line. Jay Addis, Alsco's North American safety and production leader, explained how the company overcomes this view and prompts employees to stay focused on achieving zero incidents. He shared guidance for monthly safety meetings and questions to prompt employees to want to do more.
He explained how Alsco uses a "maturity model" for each corporate facility to ensure its safety programming progresses closer to the goal. A relatively immature operation needs a discipline/compliance focus at first. As the situation gets better, staff can concentrate more on self-assessment and data. The next step: refine the corporate culture.