Superior Linen Service Marks 10 Years Without a Lost-Time Accident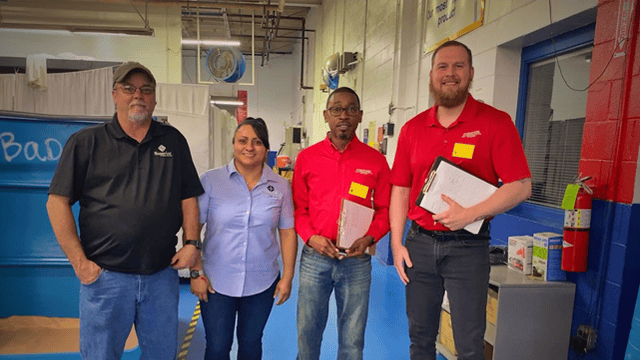 On May 5, Superior Linen Service's Springdale, AR, location achieved the milestone of 10 years without a lost-time accident.
Additionally, the Springdale plant distinguished itself by earning its fifth OSHA SHARP certification, as well as being awarded the Accumulative Years Safety Award from the Arkansas Department of Labor, which was endorsed by Gov. Sarah Huckabee Sanders (R), for its no-lost days away from work for over 10 years.
These accolades clearly indicate the unwavering commitment to safety and well-being that Superior Linen Service embodies in the company's work culture. Superior Linen Service's leadership has consistently emphasized the importance of a strong safety culture, which is a key component in any successful safety program.
"It was that high level of commitment that helped fuel the remarkable achievements we have accomplished in safety, the results of which are a true testament to the hard work and dedication of both our management team and employees, who have made safety a crucial part of our company culture," said Russell Holt, chief compliance officer at Superior Linen Service. "Working together, the management team and the employees have achieved something remarkable. We look forward to continuing our focus on safety to ensure that we maintain a safe work environment for all of our employees. Again, we are very grateful for the dedication and hard work of all those involved, and here's to many more years of accident-free operations!"
In addition to Holt, several employees at the Springdale location shared their thoughts on the safety milestones the company recently achieved:
"My family is why it's important to me to work for a company with a strong safety culture. I want to go home with all my parts attached. It's not about getting the job done fast, it's about getting the job done safely. The safety culture causes me to slow down and think before I try to fix something."
~ Toby Rychel, plant maintenance technician
"I feel comfortable working in my job here at Superior Linen Service because of the safety culture. We are all trained to do things the right way to keep us safe and to watch out for our co-workers to make sure they are safe, which shows how much the company cares."
~ Mark Pearson, route service rep
"Working for a company with a strong safety culture is good. I feel empowered to work safely and to be able to report things that are not safe for my co-workers or me. This is good because we can return home to be with our families without injuries."
Maria Gomez, production
"Working for a company that has a strong safety culture is important to me because we are educated on the kinds of risks that we are exposed to in our work environment. It is important as well that we are taught safe ways to do our job to prevent any accidents, or harm to our health.
"A strong safety culture has impacted my work experience because it allows me to feel comfortable and safe at work while walking through the plant or anywhere an accident may happen. The organization of this workplace to implement safety precautions and rules also helps make me feel better about everyone's physical and mental well-being out in the plant. Superior Linen Service cares about their employees' engagement and asks them personally if there are any safety concerns that need to be addressed immediately."
Adamarix Alvarez, administrative assistant