Supplier Partner Workshop Kicks Off Legislative Conference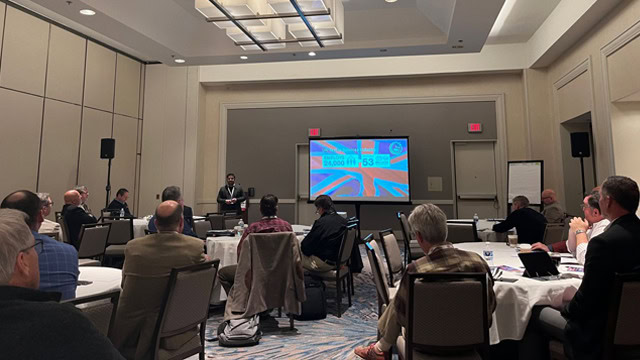 TRSA kickstarted its 13th Annual Legislative Conference in Washington, DC, with a three-hour workshop on March 21 designed exclusively for supplier partners to the linen, uniform and facility services industry. The workshop's four sessions were designed to inform and educate industry suppliers about the latest supply-chain trends, sustainable practices, the importance of branding and how understanding the industry's end users helps build relationships with operators.
The workshop began with Aric Newhouse, the senior vice president of policy and government relations at the National Association of Manufacturers (NAM). Newhouse gave a report on the manufacturing industry's outlook on supply-chain issues. He reviewed the improvements, such as better inventory and transportation practices, that manufacturers are implementing to meet their needs for timely and complete shipments.
After Newhouse spoke, Shyju Skariah, director of programs and projects, TSA UK, gave a presentation titled, "Sustainable Value Chain for Industrial Laundering." Skariah addressed a range of environmental issues based on data gathered from linen, uniform and facility services operators in the UK. These included discussions of the need to reduce textile losses and to find alternatives to single-use plastic packaging that laundry operators commonly use. He also cited survey research showing that 50%-60% of the public favor the implementation of sustainable solutions to a range of challenges.
"Everyone agrees it's important, so what do we do about it?" Skariah asked rhetorically before outlining several TSA initiatives aimed at advancing sustainability. The good news is that while the industry faces significant challenges, including reducing water and energy use, the business is already "inherently circular." Skaria called on operators worldwide to do more to help the public understand that laundering is based on reuse and recycling. "We don't shout about it enough," he said.
The next speaker, Ken Koepper, TRSA's director of membership/industry relations, shared TRSA research that has identified branding patterns in a variety of product/service categories. Attendees participated in exercises that enabled them to compare their company's brand communication with competitors.
In the workshop's final session, TRSA's Susie Jackson, senior director, marketing communications; and Tyler Fowler, president, M&A Matting, co-hosted a discussion of strategic efforts to help industry suppliers do a better job of connecting with customers and prospects. They cited findings from the recent Market Recovery and Expansion research project to highlight how industry suppliers can communicate commercial messages more effectively to customers and prospects. The session offered attendees an overview of survey data that revealed "industry personas" across several market sectors. Jackson and Fowler also described how supplier partners can use that knowledge to build relationships with customers, as well as develop products and services that will benefit both supplier partners and their customers.
The workshop concluded with a well-attended reception for supplier partners. This event provided these suppliers partners with a prime opportunity to network with their peers in the heart of the nation's capital.