Supplier Partners Showcase Latest Innovations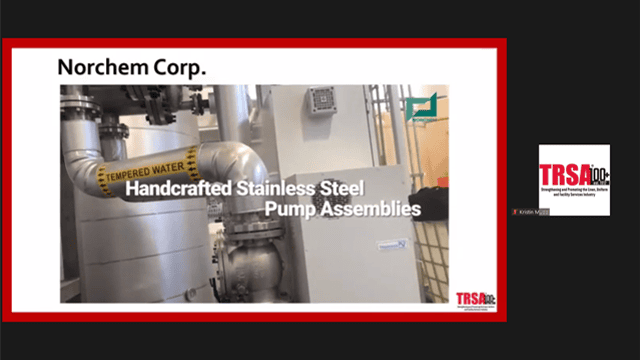 Supplier partners to the linen, uniform and facility services industry recently showcased their latest and greatest innovations at TRSA's Innovation Showcase & Exchange, a virtual event that took place June 14-18. After showcasing their videos in a virtual presentation, supplier partners then had the opportunity to meet with key executives at operator companies.
A total of 52 supplier-partner companies featured their products for the linen, uniform and facility services industry in 14 categories on June 14-15. A total of 81 videos were viewed in categories that included:
Automated ID/RFID
Chemicals
Facility Services
Finishing/Ironers/Folders
Healthcare Garments, Gowns, Scrubs and PPE
Linens/Other Reusable Textiles
Material Handling/Sorting
Mats/Dust Control
Miscellaneous (Hangers, Consulting, Recycling, Etc.)
Software
Tunnel Systems
Uniforms/Workwear/PPE
Washer-Extractors/Dryers/Wash Aisle
Water Treatment, Reuse and Recycling
Following the June 14-15 presentations, executives at operator member companies had the chance to meet with supplier-partner executives to gather more information on the products and services highlighted in the video presentations. A total of 268 meetings took place from June 16-18, with approximately 60 operators participating in these high-level sessions.
In the future, each of the videos submitted for TRSA's Innovation Showcase & Exchange will be available to view at TRSA's On-Demand Learning Portal at www.trsa.org/ondemand.