Tax-Reform Push: TRSA Members Visit 100-Plus Lawmakers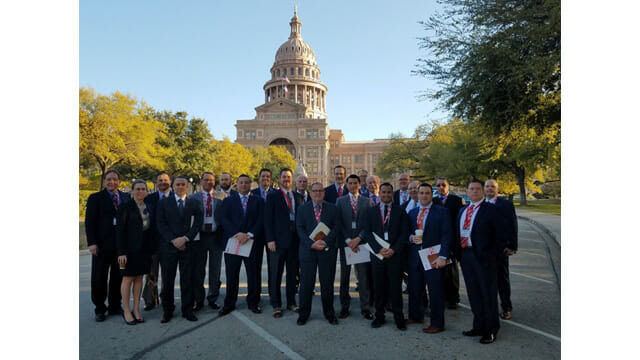 Over 25 TRSA members in Texas recently attended TRSA's 2nd Texas Legislative Conference in Austin. The Conference was developed to build legislative support for Texas HB-1089, authored and sponsored by State Rep. Drew Darby of San Angelo.
If passed, HB-1089 would amend the Texas franchise tax for commercial laundries to include uniform and linen rental. Upon enactment, the industry's franchise tax rate would drop from .75% to .375%.
The Conference on March 20-21 began with a general session in which the attendees heard about the origins of the legislation, learned who their respective state legislators are and how to discuss the issue during legislative meetings.
After the general session, the participants attended a legislative reception in which Rep. Darby (R) spoke about the importance of an active presence in the state capitol as well as the need to be a participant in the process, not a bystander. "I will push this bill as hard as I can, and I know your team here in Austin will push as hard as they can, but the only way it will get across the finish line is if the industry also pushes as hard as you can," Darby said. "There will be over 6,000 bills introduced this legislative session, in order for yours to get traction, your attendance here is necessary, and once you get back home, your participation is integral."
The next morning the attendees marched to the Capitol and visited over 100 legislative offices to gain support for HB-1089. Several of the "lobbyists" were able to meet with their actual legislators. By the end of the day, Rep. Darby contacted Jesse Ancira, TRSA's Texas legislative counsel, to say that he had heard from several state house members that would like to add their names to the bill as co-sponsors.
The next step is for the bill to be heard in the Texas State House Ways and Means Committee. TRSA hopes that the bill will be on that agenda in the next few weeks. Any other Texas operators that would like to get involved or have questions about the bill should contact TRSA's Vice President of Government Relations Kevin Schwalb at kschwalb@trsa.org.