Texcare Asia: Focus on Automation, Environment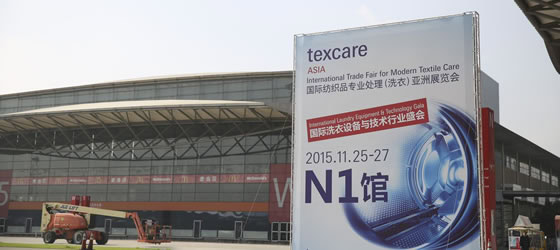 Photo Credit: Messe Frankfurt/Texcare Asia
Texcare Asia, slated for Sept. 27-29 in Shanghai, will include seminars for attendees that will focus on issues such as automation and sustainability, according to a news release.
The show's concurrent forums include the Texcare Forum Asia 2017, which will include an in-depth focus on radio frequency identification (RFID) technology. This session of the forum is titled, "Transformation of Systematic Laundry Using RFID Technology for Business Innovation."
TP Chan, CEO of Systematic Laundry & Healthcare Services Pte Ltd., said he'd offer a comprehensive overview of developments related to RF technology. "Automation is obviously the future for our industry, and RFID plays a crucial role in this transformation," Chan said. "Its track-and-trace capabilities, as well as its technological reliability, allow for much higher operating efficiency. It also significantly increases the visibility of overall operations without any additional expenditure of labor. I look forward to exploring the future of the laundry business with our participants."
Two other seminars will address environmental issues for laundries that service hotels and other sectors. These sessions are titled "China Hotel Smart and Green Laundry Solutions Summit 2017" and "Convention on Applications of Smart and Green Laundry for National Institutes."
George Lau, the executive chairman of the China Hotel Engineering Alliance and general manager of SGF International Hotel Management Co. Ltd., will lead the seminar on "Smart and Green Laundry Solutions" noted above.
"China's hotel industry is experiencing explosive growth," Lau said. "While enjoying the increasing number of opportunities, it is also essential for the industry to maintain a high level of environmentally friendly approaches to production."
Click here for details.