Texcare International: Revving Up for 2020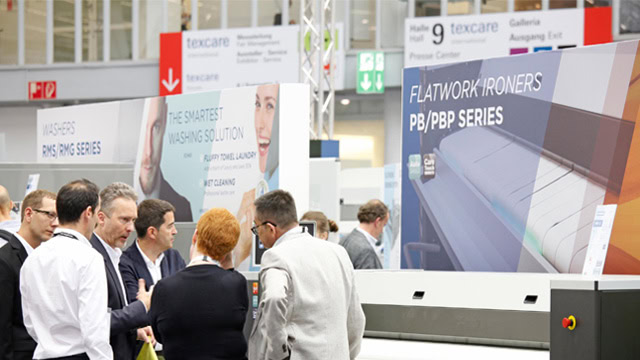 With no Clean Show planned for 2020, next year's Texcare International, scheduled for June 20-24, in Frankfurt, Germany, is expected to draw a worldwide audience of laundry operators and suppliers to this quadrennial exhibition, according to Johannes Schmid-Weidersheim, who serves as the show director for Messe Frankfurt, the company that produces not only Texcare and the Clean Show, but hundreds of other trade exhibitions for launderers and other businesses worldwide. In 2018 alone, Messe Frankfurt produced more than 500 trade shows and other programs, according to its website.
In an interview with the Autumn Meeting Magazine (Höstmöte Mässtiding) a publication sponsored by the Swedish Laundry Association, (Sveriges Tvätteriförbund), Schmid-Weidersheim said the Texcare show will be a top draw for laundry operators and suppliers in 2020.
"We believe, based on the preliminary orders, that Texcare 2020 will even attract more exhibitors and visitors than the fair did four years ago," Schmid-Wiedersheim said. "This trend is not entirely obvious given the mergers that occur in the industry." In 2016, Texcare International drew 319 exhibitors and 15,600 attendees.
Schmid-Wiedersheim said his high expectations for next year's show are based on an expanded educational program at Texcare, plus an array of machinery, software and textile innovations that vendors will have on display at the 2020 show in Frankfurt. "As usual, Texcare International is held every four years," he said. "This means that during the fair, a concentration of four years of innovative industry development is presented. Not only are individual products exhibited here, but visitors to the fair can see entire production lines built up." Click here for more on Texcare International.
The World Textile Services Congress (WTSC) will be held prior to Texcare International at the Hilton Frankfurt City Centre. For more information and to register for this June 18-19, 2020, event, click here. U.S. laundry operators will get another chance to see such systems in action stateside when the next Clean Show convenes from June 10-13, 2021, in Atlanta. Click here for details on the 2021 Clean Show.