Textile Market: Vendors Wary of Pakistani Flood Impact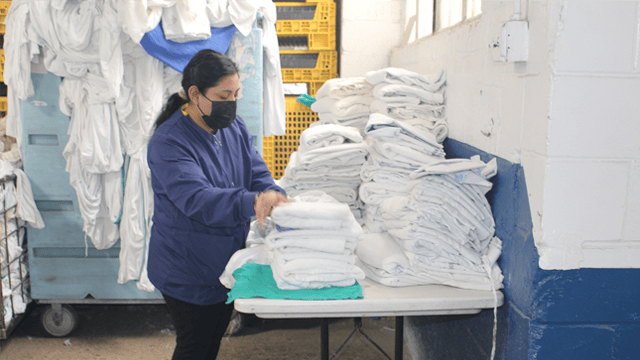 A recent flood disaster in Pakistan that has impacted 33 million people and claimed the lives of 1,300-plus victims, also threatens the future availability of cotton-based or blended textile goods made in that country, which is the world's fifth-largest producer of cotton at 980,000 tons annually.
"According to a few sources, a significant percentage of the (cotton) crop is underwater," said Anwer Shakoor, vice president of Unitex International Inc., Duluth, GA, a textile manufacturer with operations in Pakistan.
While the humanitarian crisis, including a quarter of a million people in shelters, is the top concern for government officials, Shakoor and other vendors told Textile Services Weekly that they anticipate the flooding will constrict the supply of cotton textile exports, while forcing up costs. "We are hearing from our factories that the weaving and knitting yarn cost is a bit high due to the shortage of deliveries of cotton from ginning to spinning due to infrastructure damage," Shakoor said.
Roughly one-third of the country is currently underwater, he adds, noting that the flooding has destroyed an estimated 21 million acres of crops, including cotton as well as food crops and as many as 700,00 head of livestock. "We are in close communication with our factories and prepare ourselves accordingly for supplies to flow smoothly, Shakoor says. "We may see an increase of cotton and blend-product prices, depending on demand."
Another TRSA supplier partner with operations in Pakistan, Sigmatex-Lanier Textiles, Suwanee, GA, said that while the humanitarian crisis is critical, the textile market will feel the effects as well. "As far as business is concerned, it most certainly will have an impact, since the flooding destroyed so much of the crops, including cotton," said Khurram Maqbool, president of Sigmatex.
A third vendor with Pakistani ties, American Dawn Inc. (ADI), Los Angeles, said customers should keep a close eye on market developments, as ADI is doing. "We are monitoring the situation as textile manufacturers," said Kenny Cohen, VP of sales. "We are in constant contact with our mills and other sources to attain information and to stay on top of the market changes."
While it's too soon to tell how severe an impact the flooding will have on the cotton or cotton-blended textiles market in North America, laundry operators should include this development as a potential risk factor in their buying strategies, along with inflation and a potential business downturn.
"Cotton futures pricing and the potential impact of the floods is being offset by softening demand due to inflationary fears," Cohen said. Shakoor added that demand also could fall if business activity deteriorates. "In my personal opinion, all industries will be slowing down due to a recession worldwide."
For now, Cohen said laundry operators should keep tabs on the market. "We are not advising customers to make any changes as yet to their planning, but to be aware of the situation and monitor all developments," he said.