Third-Quarter Uniform/Linen Rental Survey Results Show Positive Growth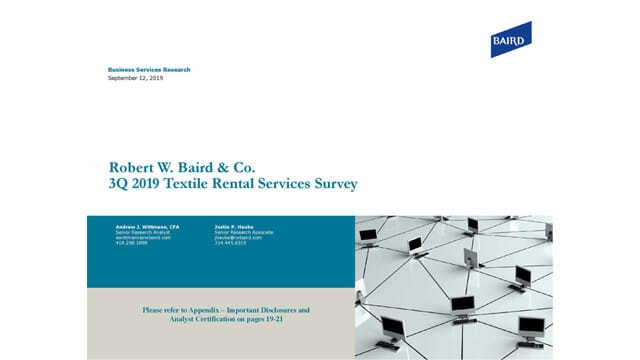 Robert W. Baird & Co. and TRSA recently released the results of the quarterly Uniform & Linen Rental Survey. The 2019 third-quarter results were distributed on Sept. 12.
Survey participants include senior executives at uniform and/or linen rental companies, evenly distributed across the United States, with some operations in Canada and other international locations. The total response pool for the survey consisted of 275 independent companies.
Key uniform rental survey findings include the following:
Rental Revenue Trends. 88% of respondents met/exceeded internal 3Q19 revenue expectations. The 52-point spread between the 64% of respondents exceeding internal plans versus 12% falling short is a record.
Add/Stops. Employment-driven expansion at existing accounts (i.e., Add/Stop Diffusion Index) held firmly in positive territory (58.3, greater than 50 signals expansion) though a bit below recent readings greater than 60. This marks the 12th consecutive positive reading in this metric (since late 2016).
No-Programmers. The no-programmer diffusion index was mostly unchanged at 56.0 (55.8 last quarter), solidly positive. This metric has been consistently in positive territory since briefly dipping negative in 2015-'16.
Growth Outlook. Respondents see average 12-month growth expectations of 5.3%, near record levels and the best of the cycle. Last quarter had seen this metric dip slightly.
For the linen-rental survey, key findings include:
Rental Revenue Trends. 37% of respondents cited rental revenue trends above expectations with 21% of respondents citing trends below plan (the balance was as expected). Percentage of respondents meeting/exceeding (~80%) was a bit lower than recent trends (90+%).
No-Programmers. No-programmer interest showed further quarter-over-quarter moderation with the diffusion index slipping to 55.3 (from 61.1 last quarter). This is the second straight quarter of moderation.
Growth Outlook. Forecasted 12-month growth rates are now seen at +4.4%, above last quarter's report of 3.7% but below average gains over the last several years (in the 4-5% range) and the uniform rental sector (+5.3%).
If you have any questions or comments about the survey, contact Baird Senior Analyst Andrew Wittmann at awittman@rwbaird.com or Senior Research Associate Justin Hauke at jhauke@rwbaird.com. Wittman will present data from the third-quarter Uniform & Linen Rental survey and more on Sept. 20 at TRSA's 106th Annual Conference in Boston. For more information on the Annual Conference, go to www.trsa.org/annualconference.
To view the results from the third quarter, click here. Next quarter's Uniform & Linen Rental Survey results will be distributed in December.