Three TRSA Members Earn Spots on 'Healthcare Top 150' List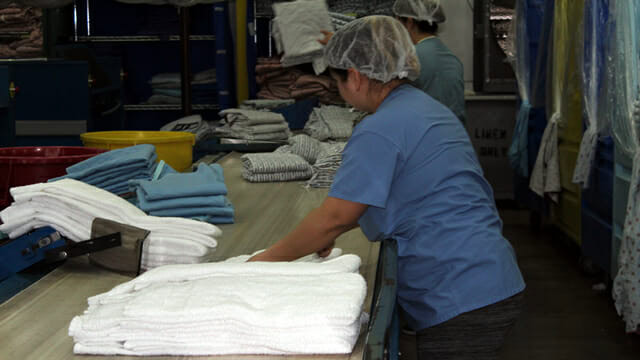 TRSA associate member companies, 3M (i.e., the company's Scotchlite Reflective Material division), Compass One Healthcare (including Crothall Healthcare) and Medline Industries Inc. recently appeared on a list of the "150 Top Places to Work in Healthcare." The list was assembled by Becker's Hospital Review, an online healthcare trade publication.
The 2019 list, published in Beckers' on May 21, included both hospitals and other healthcare institutions, as well as companies that support the healthcare industry. Companies qualified for the lists as a result of nominations, plus research conducted by Becker's editorial staff, according to the article. The list includes "hospitals, health systems and healthcare companies that promote diversity within the workforce, employee engagement and professional growth." The article added that, "The organizations featured on this list offer benefits and opportunities for employees to build successful careers above and beyond the average healthcare provider or company; they encourage professional development and promote leadership from within." The organizations on the list often include unique wellness and personal benefits to help ensure work/life balance. Many also provide competitive benefits and vacation packages, while supporting volunteerism and community-outreach efforts. No organization can buy its way onto the list; nor should readers construe inclusion on the list as an endorsement by Becker's of any healthcare organization or company, the article said.
In a summary paragraph on each of the three TRSA members that appeared on the list, the article noted that, "3M is built on an inclusive culture and encourages employees to spend time in their workday pursuing innovative ideas exciting to them. Employees can take advantage of flexible work practices to improve professional and personal productivity." Based in St. Paul, MN, the company also provides a professional mentorship program, plus tuition reimbursement, on-site fitness centers in many locations and stress-management coaching.
Crothall, based in Wayne, PA, is owned by its Atlanta-based parent company Compass One Healthcare, which also includes Morrison Healthcare. The article cited outreach efforts that these companies have undertaken, including organizing Diversity and Inclusion Action Councils to help them build more inclusive workplaces. The councils advise senior leaders, while backing inclusion and diversity strategies for the human resources departments and across the organizations. The companies have won numerous awards, including Crothall's designation in 2018 as one of the Best Places to Work in Pennsylvania.
As for Medline, the article noted that the Northfield, IL-based company provides employees with a competitive benefits package, as well as an on-site fitness center, flexible work hours and a subsidized cafeteria. The company provides tuition reimbursement, plus "Medline University" an online resource center that provides 200 free continuing-education courses. Click here for details.