'We're in this Together': Industrial Operators Unite Amid COVID-19 Crisis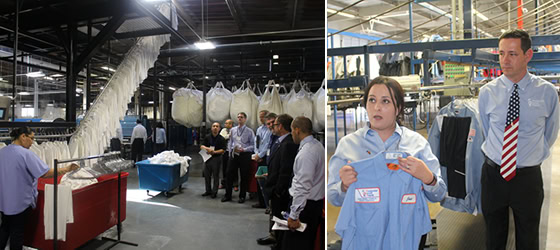 TRSA held its final market-sector meeting of the week with a webinar presentation on March 26 for industrial operators to share ideas and best practices for dealing with garments, uniforms, mats and more in the wake of the COVID-19 crisis. More than 100 industrial operators attended the hour-long presentation.
The teleconference was moderated by Israel Cartagena, chair of TRSA's Industrial/Uniform Committee and maintenance/fleet/utility team leader, Roscoe Co., Chicago. Featured speakers included Jim Buik, TRSA chair and president, Roscoe Co.; Jeff Delazzer, service team leader, Roscoe Co.; and Michael Shulevitz, president, Cadillac Uniform & Linen Supply Inc., Bayamon, Puerto Rico. TRSA President & CEO Joseph Ricci and Director of Membership & Industry Outreach Ken Koepper also appeared on the teleconference.
Ricci kicked off the webinar with a recap of TRSA's response to the COVID-19 pandemic and measures the association is taking to communicate with the industry, including a shift to virtual meetings for the foreseeable future. Buik emphasized the importance of these meetings and industry information sharing from an operator's viewpoint. "These calls are very important because they give us a number of perspectives that we otherwise might not have had," Buik said.
Buik spoke in depth about the measures Roscoe has taken to deal with the impact of COVID-19. "Our first step was to educate ourselves and our team, relying on credible sources such as the CDC (U.S. Centers for Disease Control and Prevention) and the World Health Organization (WHO), as well as OSHA (U.S. Occupational Safety and Health Administration)," Buik said. "The information that came out immediately from TRSA was invaluable and it came out at just the right time. We printed out those CDC flyers on handwashing. We took the information about best practices and made sure that we were following those best practices.
"We're a Hygienically Clean certified plant. That happened about three years ago and that led us to up our game and be in a position to further up our game. The next step for us was reviewing our emergency preparedness plan. We updated it and quickly decided that besides being Hygienically Clean for those customers that absolutely demanded it, like food manufacturing, we also wanted to be Hygienically Clean on every product that we produce, to include our floor mats. We're about 50% poundage wise floor mats, and I didn't want my RSRs to be carrying floor mats that may be harboring pathogens that could expose them to something."
Buik detailed what the company did to protect its team members and customers, as well as the company itself to keep operating when Illinois went into a mandated shutdown. Communications played a key role, particularly with a diverse workforce like the one at Roscoe, where translators are necessary to get the message across to everybody on staff. "Our team members were scared," Buik said. "They were afraid of what this was, and they thought if they caught it, it might be a death sentence and they didn't want to bring it home to elderly parents. First of all, we had to communicate what they were dealing with and then communicate what Roscoe was doing to protect them, and then make sure they were indeed following those protective steps, with posters and weekly Zoom meetings, and communication with team members."
In addition to communicating with staff, Buik also emphasized the importance of communicating with customers, suppliers, banks, unions, government officials and other critical partners.
Delazzer then further detailed changes made to operations at Roscoe, such as taking the temperatures of employees, providing protective gear for route reps, including butcher coats (removed at each account stop and placed in soil) and safety glasses. RSRs also sanitize their boots, the back of trucks, carts, hanger tote and more.
"We have been working diligently to keep the team members safe," Delazzer said. "The spirits of the route guys are good, even though we've been going through these hard times. It's rough, I know all you guys are feeling it and that's why we're all on this conference call – to stick together, be a team and get through this, and hopefully come out better at the end."
Shulevitz then discussed the process of operating after Puerto Rico's mandatory shutdown. Cadillac processes a wide variety of industries, including cleanroom, industrial garments, dust control, F&B and hospitals. While many customers are closed, Cadillac is still serving essential business, such as hospitals, pharmaceutical suppliers, grocery stores, major manufacturing operations, and some garages, including the UPS repair garage and FedEx repair garage.
The rest of the call was spent by industrial operators sharing ideas on how they're dealing with COVID-19, as well as answering questions about topics such as social distancing in the plant, boosting employee morale during these difficult times, and more.
Questions addressed on the call included:
What business interruption programs should we attempt to access? Are there state-specific programs?
What are the best practices for handling potentially contaminated textiles in the following areas: route sales and service, wash aisle, hangering and pressing, and loadout?
Is there any guidance established regarding removing their own uniforms once they enter the building, soil on boots that could enter the building, or laundering their own uniforms more frequently?
How are operators managing their sales reps? With so many business closures and many folks working from home, how are you managing your full-time sales reps who may be encountering difficulty making sales calls?
Cartagena closed with a message of industry solidarity, "We're all in this together, from sharing we can only get better, and, of course, keep our industry strong and healthy."
For more information and guidance related to COVID-19, visit www.trsa.org/covid19. TRSA's industrial teleconference was one of four such sector-specific calls made this week. Separate calls focused on food-and-beverage (F&B), healthcare and hospitality laundry operators. In addition to the calls, TRSA is organizing sector-specific task groups for all four types of laundry operators as they seek to enhance business growth strategies in the wake of the COVID-19 crisis. Contact Koepper at kkoepper@trsa.org for details.