Tony Schult Promoted to Executive VP at Kannegiesser ETECH
Kannegiesser ETECH, Minneapolis, recently announced that Tony Schult will take over the role of executive vice president, effective Feb. 1.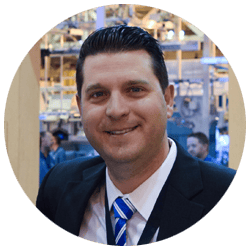 Schult has 17 years of experience at Kannegiesser ETECH. He pioneered the development of the company's Systems Performance Team, which is designed to provide the best service to Kannegiesser ETECH customers. Schult also played a vital role merging and designing the company structure of the E-Tech and Kannegiesser teams when the two companies came together four years ago. He takes on this new role with a focus on providing the best solutions and services to the linen, uniform and facility services industry.
"I look forward to this opportunity working alongside our leadership team and everyone else at Kannegiesser ETECH to help streamline operations to provide the very best products, services and solutions for our customers," Schult said.
Kannegiesser ETECH's President and CEO Phil Hart described Schult as an ideal choice for advancement to the company's leadership team. "As our industry continues to evolve, our company will grow and evolve with it to meet the needs of our customers. This will create opportunities for internal growth and career advancement within the company. Our core values continue to drive our strategic vision and decision making. Tony Schult has a unique combination of skills, experiences and vision for the future that make him uniquely qualified to join the leadership team at Kannegiesser ETECH. It is a privilege to work with Tony, Joe and all of the almost 1,800 colleagues within the global Kannegiesser organization. We are proud of what we have accomplished together with our customers and industry partners thus far and are optimistic for the future of the textile services business."
Joe Schult, currently Kannegiesser ETECH's COO, will continue to work with Tony and the North American leadership team, and as an adviser for the business. "I'm very excited for Tony, he is a great leader and will do great in this new position," Joe Schult said. "I'm also excited to move into an advisory role with the company. This will open up opportunities for advancement and will put Kannegiesser ETECH in a great position moving into the future. My new role will allow me to use my 30 years of experience to provide focused help and support where needed."