TRSA Announces 2023 Professional-Development Opportunities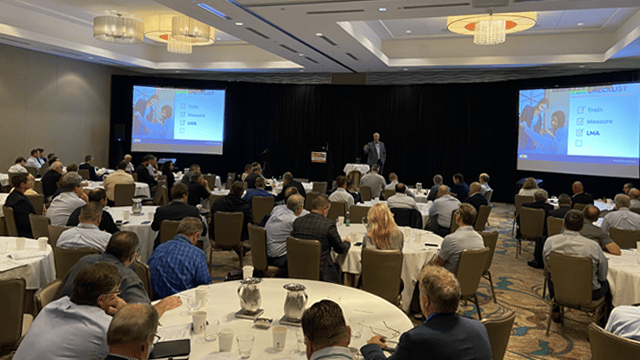 TRSA's 2023 professional-development calendar has been published online and registrations will start opening for a range of events. Details can be found at www.trsa.org/events. Carefully crafted to appeal to senior executives as well as a broad range of plant management that includes general, maintenance, production, human resources, safety, marketing and sales, the professional-development events highlight TRSA's commitment to strengthen, grow and promote the linen, uniform and facility services industry through the people who power it.
Currently 10 webinars, six virtual roundtables and 18 in-person events are scheduled for 2023. A new format, a Virtual Summit Series, is being introduced which will allow HR, Health and Safety Members to build their professional-development skills while minimizing downtime for travel. The two series, the HR & Labor Management Summit Series and Health & Safety Summit Series, will take place in the spring of 2023. Each series will meet virtually once per week for three weeks and each meeting will include two sessions. "One of the benefits of this format is for attendees to use this as a training tool for their team and expose development skills to those team members who might not have been able to travel in the past due to cost or time constraints," said Chaz Papa, TRSA's senior director of events and education.
The in-person schedule gets underway in February and March. The 13th Annual Legislative Conference (March 22-23, Washington, DC) will help constituents find their voices to advocate for the industry when participants visit Capitol Hill for organized, scheduled meetings with lawmakers and staff members in their congressional offices. A bonus Supplier Partner Workshop will kick off the DC legislative meeting. Three statewide in-person Legislative Conferences are currently planned for California (Feb 1-2, Sacramento, CA), Kentucky (Feb. 8, Frankfurt, KY) and New York (April 20, Albany, NY) to address state-specific needs.
Summits are structured to typically focus on management of a single aspect of industry operations. In May, at the Production Summit & Plant Tour, attendees will discuss and view process improvements to build personal skills and increase laundry throughput and productivity. Typical attendees of this event are production executives/managers and company owner/operators. On June 14, the Leadership Summit will offer one full day with three separate tracks to build leadership skills at all levels. The back -to-back pairing of the Sixth Annual Marketing & Sales Summit and the 12th Annual Healthcare Conference & Exchange will occur in Memphis, TN, in November. The Healthcare Conference is the premier and largest event for companies that supply, launder and maintain linens, scrubs, garments and other reusable textiles for the healthcare sector. At this event, participants improve their grasp of practical techniques and operations/financial trends through information-sharing and networking with TRSA members, who process more than 90% of North American acute, long-term care and specialty medical linens and garments.
Institute programs occur in the last half of the year; in August at the University of Maryland (Hyattsville, MD) with the 58th Annual Executive Management Institute (EMI) and the 33rd Annual Professional Management Institute (PMI) and then in October, when attendees of the 30th Annual Maintenance Management Institute (MMI) will journey to Rosemont, IL. Appropriate for new and experienced managers, TRSA institutes provide training in management principles and technical practices in industry and businesses at large.
Historically the most attended event of the year, the TRSA Annual Conference will commemorate 110 years next Oct. 10-12 at the Ritz-Carlton in Naples, FL. "TRSA's Annual Conference is an excellent opportunity to catch up with old friends, make new connections in the industry, celebrate those who have contributed to our industry and learn about new best practices," said Jim Buik, president of the Roscoe Co., Chicago, IL, and former TRSA chair.
In addition to the live events listed below, TRSA offers monthly webinars (free to members), virtual town halls and roundtables, and will continue to build its On-Demand Learning library with e-learning courses, training videos and certificate programs. Levi Nix, regional manager, M+A Matting, a recent first-time Annual Conference attendee, sums up by saying, "I would suggest that anyone within the industry attend TRSA events to capture industry insight and build new friendships."
Visit trsa.org/events/calendar for upcoming webinars and virtual roundtables or trsa.org/ondemand for on-demand training. Event sponsorships are available and can be reviewed at trsa.org/advertising.
Event                                                                                                  Date                              Location
California Legislative Conference                                           Feb. 1-2                        The Sutter Club – Sacramento, CA
Kentucky Legislative Conference                                            Feb. 8                            Frankfurt, KY (tentative)
Supplier Partner Workshop                                                       March 21                     Westin Washington, DC City Center – Washington, DC
13th Annual Legislative Conference                                      March 22-23              Westin Washington, DC City Center – Washington, DC
Fleet Summit/Mid-Atlantic Town Hall                                   April 17-19                  Baltimore, MD
New York Legislative Conference                                           April 20                         Hilton Albany – Albany, NY
HR & Labor Summit Series                                                         April 20, 26, May 3  Virtual
WATS Baseball Game                                                                  TBD                                TBD
Southern California Town Hall                                                  May 1                            Anaheim, CA
Production Summit                                                                       May 9-11                     Kansas City Marriott Downtown – Kansas City, MO
Health & Safety Summit Series                                                May 10, 17, 24          Virtual
Annual Leadership Summit                                                       June 14                         Hyatt Lodge Oak Brook Chicago – Oak Brook, IL
Next-Generation Executives Workshop                               June 15                         Hyatt Lodge Oak Brook Chicago – Oak Brook, IL
58th Executive Management Institute                                 Aug. 6-10                     College Park Marriott Hotel & Conference Center – Hyattsville, MD
33rd Annual Professional Management Institute            Aug. 6-10                     College Park Marriott Hotel & Conference Center – Hyattsville, MD
WATS Annual Conference                                                         Sept. 6-7                      TBD
New York Town Hall                                                                      Sept. 13                        TBD
30th Annual Maintenance Management Institute           Sept. 26-28                College Park Marriott Hotel & Conference Center – Hyattsville, MD
110th Annual Conference                                                           Oct. 10-12                  The Ritz-Carlton Golf Resort – Naples, FL
6th Annual Marketing & Sales Summit                                  Nov. 14                        The Peabody Memphis – Memphis, TN
12th Annual Healthcare Conference                                      Nov. 15-16                 The Peabody Memphis – Memphis, TN